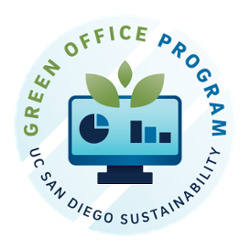 Green Office Program
Your office can implement sustainable practices to operate more efficiently, save money and help reduce UC San Diego's environmental impact.
The Sustainability Resource Center partnered with students to create the Green Office Certification (GOC) program, which helps campus offices promote resource conservation and receive recognition for their leadership in sustainability. The GOC team works with office staff to identify opportunities to implement or improve existing sustainable practices and earn points toward certification.
The Green Office Certifications program strives to:
Help UC San Diego meet its Climate Action Plan goals related to energy efficiency, waste diversion, and alternative transportation
Increase sustainability awareness and promote conservation throughout the campus community
Create opportunities for students to gain experience and knowledge by being involved with sustainability
Address opportunities for resource consumption savings in campus offices by providing a simple and efficient green certification process
Ensure that UC San Diego remains a world leader in sustainability through certifying, recognizing, and awarding green practices and efforts within the campus community
Any UC San Diego office building or department, including the La Jolla campus, Scripps Institute of Oceanography, Hillcrest Medical Center, Extensions, and all other UC San Diego entities, can be certified. Individual offices do not qualify for certification.
The GOC certification process is free! The facility is responsible for implementing new sustainable innovations, which in the long term, will save resources and costs.
The GOC process provides a framework for future LEED certification.
The program provides an opportunity to educate staff about sustainable technology and current practices while promoting peer-learning, office collaboration and involvement in environmental and global efforts.
Certification helps offices to identify weakness and potential areas for saving resources and cutting costs and provides support and technical assistance with sustainable challenges.
Certified offices and departments receive recognition for their sustainable efforts, accomplishments and innovations.
Certified offices and departments help UC San Diego reach its Climate Action Plan goals, remain a leader in sustainable practices, reduce natural resource consumption and decrease our environmental impact.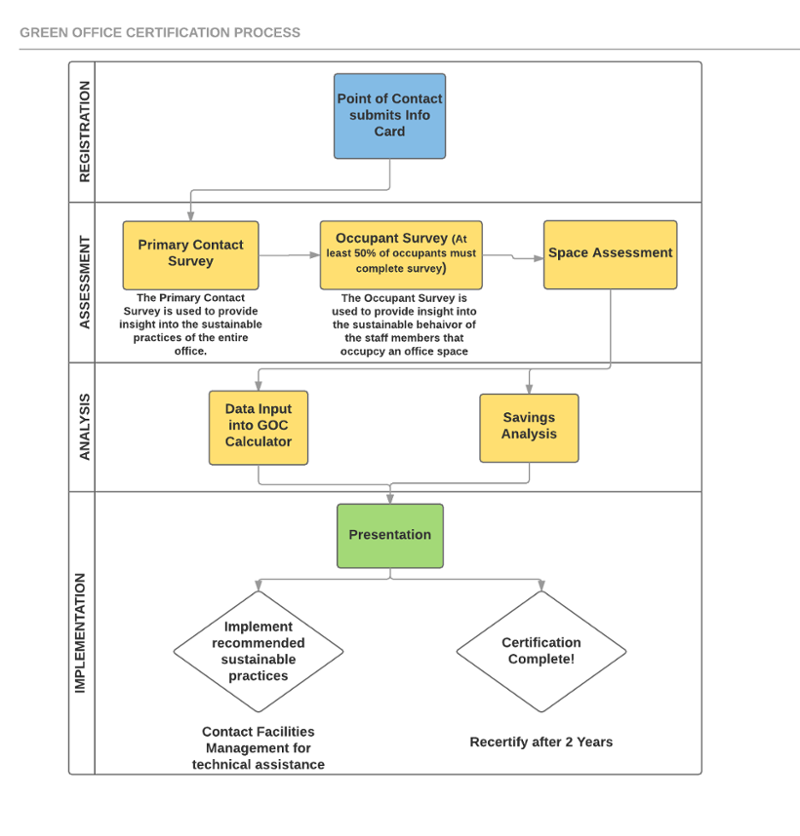 The Green Office Certification process involves these steps.An office identifies a representative to complete an application.
An office identifies a representative to complete an application.
The GOC team reviews the application and confirms with the office representative that the office may proceed by completing these forms:

Primary Contact Survey: To be completed by the office representative
Occupant Survey (takes less than 5 minutes to complete): To be distributed to all staff members in the office

(Waived During COVID-19) The GOC team schedules a walk-through with the office representative to conduct a space assessment.
To qualify for certification, the Primary Contact Survey and at least 50% of the Occupant Surveys must be completed.
The GOC team provides:

A preliminary certification level by entering office survey data into the GOC calculator.
A presentation via Zoom to share the results of the assessments with the entire office.
Feedback and recommendations for adopting new sustainable practices that the office can implement to increase its level of certification. If the office can provide documentation proving implementation of recommendations, the GOC team will award a higher level of certification
A certificate to recognize its success.

Certification lasts for two years. After the certification expires, an office can apply for recertification.
To participate in the Green Office Certification Program, the office must designate a representative to be the primary contact who will submit a Green Office Certification Info Card. The card provides general information about the office, such as location and number of occupants.
The GOC team will review an office's info card within a week of the submission date and contact the representative with further instructions.
Energy (conservation and efficiency)
Innovation (developing new sustainable practices)
Kitchen (use of resources)
Participation (percentage of office staff involved)
Printing (responsible printing and paper use)
Purchasing (buying eco-friendly office supplies)
Transportation (use of alternative transportation)
Waste (recycling and waste reduction)
Lighting (features and sustainable practices)
Offices are certified based on the number of points earned.
| Certification Level | Points Earned |
| --- | --- |
| Platinum | 90+ |
| Gold | 80-89 |
| Silver | 70-79 |
| Bronze | 60-69 |
| Green | <60 |
Volunteer opportunities are available for students who would like to gain hands-on experience working with staff members to make an impact on campus. Students learn about green innovations, influencing sustainable behavior, and building commissioning processes. For information about joining the GOC volunteer team, email
greenoffice@ucsd.edu
.
Office Recycling Signage (PDF format)
Certification Level
Office
Platinum

Retirement Resource Center
SIO Director's Office
Sustainability Resource Center
Village Gallery D

Gold

Birch Aquarium Education Office
CA Sea Grant
Central Cashiers' Office
Computer Science and Engineering
Environmental Affairs
Language & Development Laboratory
Material Support Services
Mesa Nueva Housing
SIO Department

Silver

Anti Viral Research Center (AVRC)
Birch Aquarium Upstairs Administration Office
Business & Financial Services: Disbursements & Travel
Business & Financial Services: Procurement & Contracts
Core Biology Services
Cross-Cultural Center
Dillman Lab
EH&S Occupational Health & Hygiene
Geisel Teaching and Learning Commons
Health Sciences Planning (Hillcrest 1-103)
International House
LGBT Resource Center
Office of Research Affairs
Office of Strategic Initiatives (UC-409)
Office of Vice Chancellor, Resource Management & Planning
OMS/Mesa Housing Office
Price Center 4th Floor
SIO Human Resources
The Basement
The Zone
TMC Residential Life Office
Undocumented Student Services
University Center, Level 3 Office

Bronze

Birch Aquarium Exhibits Office  
Birch Aquarium Gift Shop 
Birch Aquarium Husbandry
Campus Planning
CRSF/Health Sciences Office of Faculty Affairs
ERC Housing Grounds
Geisel Library
Jacobs COSMOS
John Muir College Office
La Jolla Del Sol and Coast Housing Office
Office of Vice Chancellor, Student Affairs
Policy & Records Administration
Raza Resource Center
Rita Atkinson Residences
Sixth College
Student Veterans Resources Center
UC San Diego Center for Community Health

Green

Birch Aquarium Visitor Services
Program Management & Business Integration (PMBI)
More Information