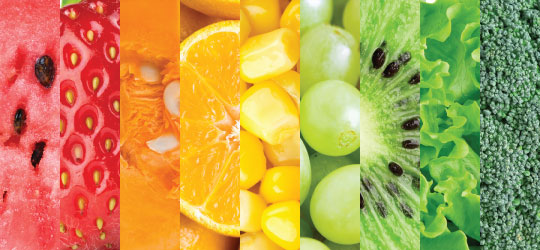 Food and
 Dining
UC Commitment
Procure 20% sustainable food products for campus and medical foodservice operations.
Highlights
Housing*Dining*Hospitality launches Rooted in Flavor initiative that promotes principles of healthy and sustainable menus.
Nineteen percent of total Housing*Dining*Hospitality purchases meet sustainability guidelines within these categories: California locally raised, handled and distributed; USDA organic; Fair Trade Certified; cage-free or pasture raised; humane raised; seafood from Monterey Bay Aquarium good or best categories; and locally grown. Thirty-eight percent of produce is purchased from locally grown sources within 250 miles of campus. Learn more about where HDH procures food.
Campus Actions
Community Gardens
UC San Diego has several campus gardens and one San Diego community garden that promote education and growing sustainable food and local produce. Students can grow their own fruits and vegetables on campus.
Choose Vegetarian and Vegan Options
The Food Co-op This vegan and vegetarian only student-run food store features a fresh, organic salad bar, bagels, bulk trail mix, soups and a variety of other foods and beverages. They are also featuring The Hare Krishna Temple located in the storefront, serving lunch only on Wednesdays from 11:30 a.m. to 2 p.m. Their Indian-style food includes Jamaica Water, lemonade, rice and vegetables, Halvah (Indian pastry), Spinach Masala and Minestrone Stew.
Housing*Dining*Hospitality Markets and restaurants have vegan and vegetarian options available daily with menusRooted in Flavor. Specific vegan and vegetarian items manyvary by location and time of year. View menus, hours and nutrition information.
Tips for Eating Healthy, Organic, Locally-Grown Food on a Budget
Evaluate your options. Check out the natural foods section at the supermarket, or visit your local natural foods market. You'll find many items that are comparably priced.
Buy seasonal produce. Local farmers' markets are a great source for fresh, seasonal produce.
Check for sales and coupons. Many natural products have coupons on the package that can be redeemed at checkout.
Buy in bulk. You can purchase grains, pastas, dried fruits and nuts in bulk isles at local grocery and natural foods stores. No matter how much you buy, you're not paying for packaging.
UC-Wide Actions
Global Food Initiative
The University of California Global Food Initiative addresses one of the critical issues of our time: how to sustainably and nutritiously feed a world population expected to reach eight billion by 2025.
Global Food Initiative Fellowship
The UC President's Global Food Initiative Student Fellowship Program funds student-generated research, related projects or internships that focus on food issues. See a list of fellows.
Resources