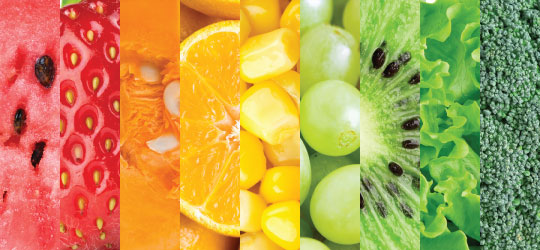 Food
UC Commitment
Procure 20 percent sustainable food products for campus and medical foodservice operations.
Highlights
2020
For the fourth consecutive year, UC San Diego met or exceeded the UC systemwide 20% sustainable food goal in FY 2020.
The Triton Food Pantry continued to recover food from local grocery stores and harvested produce from campus community gardens. The Student Sustainability Collective and Triton Food Pantry acted quickly to establish pick-up window service and arrange additional mobile food pantry locations so that students sheltering in place could have convenient access to nutritious food. During the 2019–2020 academic year, 4,979 students visited the Triton Food Pantry 19,753 times.
The Graduate Student Association began working with the Food Recovery Network and the Triton Food Pantry to organize pop-up food distributions for graduate students to share food recovered from campus dining facilities. In addition to feeding students, dining facility donations avoided wasting previously purchased perishable food inventories.
Campus Actions
Campus and medical center food purchases are on track to be 30%. We are a Fair Trade University and one of the most "vegan-friendly" large schools.
Community Gardens
UC San Diego has several campus gardens and one San Diego community garden that promote education and growing sustainable food and local produce. Students can grow their own fruits and vegetables on campus.
Tips for Eating Healthy, Organic, Locally-Grown Food on a Budget
Evaluate your options. Check out the natural foods section at the supermarket, or visit your local natural foods market. You'll find many items that are comparably priced.
Buy seasonal produce. Local farmers' markets are a great source for fresh, seasonal produce.
Check for sales and coupons. Many natural products have coupons on the package that can be redeemed at checkout.
Buy in bulk. You can purchase grains, pastas, dried fruits and nuts in bulk isles at local grocery and natural foods stores. No matter how much you buy, you're not paying for packaging.
Good Food on a Tight Budget Shopping Guide (PDF)
UC-Wide Actions
Global Food Initiative
The University of California Global Food Initiative addresses one of the critical issues of our time: how to sustainably and nutritiously feed a world population expected to reach eight billion by 2025.
Global Food Initiative Fellowship
The UC President's Global Food Initiative Student Fellowship Program funds student-generated research, related projects or internships that focus on food issues. See a list of fellows.
Resources