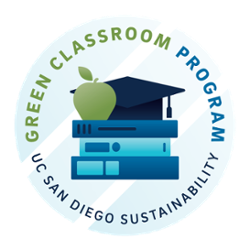 Green Classroom Program
Sustainability is a broad term that relates to many different topics. Green Classroom aims to help educate the campus community about sustainability issues and how they relate to UC San Diego specifically. UC San Diego educators can implement sustainable practices through the Green Classroom Certification program to operate more efficiently, save resources, help reduce UC San Diego's environmental impact and provide a positive example to students in the classroom.
Certification
The Green Classroom Certification (GCC) program helps campus educators, including university professors, childcare center teachers and Preuss School teachers, to promote resource conservation and receive recognition for their leadership in sustainability. The program team works with educators and their department to identify opportunities to implement or improve existing sustainable practices and earn points toward certification.
The Green Classroom Certification program strives to:
Help UC San Diego meet its Climate Action Plan goals related to energy efficiency, waste diversion and alternative transportation
Address opportunities for resource consumption savings in campus classrooms by providing a simple and efficient green certification process
Assist educators in reducing their resource use and in becoming a model for their students to notice and emulate
Increase sustainability education and awareness and promote conservation throughout the campus community
Create opportunities for students to gain experience and knowledge through their involvement with sustainability projects
Ensure that UC San Diego remains a world leader in sustainability through certifying, recognizing and awarding green practices and efforts within the campus community
Any UC San Diego educator who teaches in a university classroom, including at Early Care & Education centers and The Preuss School, can be certified.
The certification process is free!
Certified educators and their departments receive recognition for their sustainable efforts, accomplishments and innovations.
Departments with certified educators can display their commitment to modeling sustainability for their students.
Certified educators and departments help UC San Diego reach its Climate Action Plan goals, remain a leader in sustainable practices, reduce natural resource consumption and decrease our environmental impact.
The Green Classroom Certification process involves these steps.
An educator expresses interest in certification by completing the information card.
The certification team reviews the application and sends the educator the Green Classroom Survey to complete. The team reviews the completed survey and sends the Purchasing Survey to the individual that the educator indicated is responsible for making purchases on their behalf.
The certification team presents to the educator to provide:

A preliminary certification level by entering survey data into the GCC calculator
Gather feedback and make recommendations for adopting new sustainable practices that the educator can implement to increase their certification level.

The certification team awards the educator a recognition certificate. The team will add the individual to the list of certified educators below.
Certification lasts for two years. After the certification expires, an educator can apply for recertification.
Waste (recycling and waste reduction)
Energy (conservation and efficiency)
Paper and Printing (responsible printing and paper use)
Transportation (use of alternative transportation)
Participation (percentage of office staff involved)
Innovation (developing new sustainable practices)
| Certification Level | Points Earned |
| --- | --- |
| Platinum | 90+ |
| Gold | 80–89 |
| Silver | 70–79 |
| Bronze | 60–69 |
| Green | 50–59 |
Sustainability Learning Modules
Green Classroom offers Sustainability Learning Modules to educate campus community members about a variety of sustainability issues. These modules establish the broader context of topics, such as recycling, energy and water, and then narrow the focus to the UC San Diego campus. We will release new modules each month.
Welcome to the wonderful and confusing world of recycling! Recycling is defined as the action or process of converting waste into reusable material. While recycling can be an important tool in reducing waste, greenhouse gas emissions and resource consumption, it is not the silver bullet solution as often presented. When considering the "three R's," Reduce and Reuse precede Recycle because they are much more reliable and efficient than simply recycling. With that in mind, we hope you will use this recycling module to help you better understand the broad context of recycling and the specifics relevant to our global region.
When did recycling begin?
Recycling is a problematic solution to waste and the plastic industries have known this from the beginning. However, in order to sell more plastics, they worked to assure the public that recycling was the easy and obvious solution most people think it is today. In this podcast episode of NPR's Planet Money, they explain that "there was a lot of discussion about how difficult it was to recycle. They knew that the infrastructure wasn't there to really have recycling amount to a whole lot" and yet, recycling plastic became the new normal.
LISTEN: Why Have We All Been Recycling Plastic For 30 Years? - Planet Money
Why is recycling so difficult?
In 2018, the nature of recycling changed worldwide due to the Chinese government's Operation National Sword. Until then, China was buying most of the world's recycling materials to turn them into new products, but not anymore. This 99% Invisible podcast (episode 341) explains, "in the wake of National Sword, it's been up to each individual recycling program to find new buyers wherever they can," and the recycling industry is now facing numerous challenges. This podcast episode does a great job of contextualizing the systematic flaws concerning waste production and diversion in our country, which only became more apparent with National Sword. Note: Stick around for the second half (26:45) to hear about an example of systematic change in recycling collection in Taiwan.
LISTEN: Episode 341 - National Sword (0:00 - 23:20)
What do recycling plants do?
U.S. recycling plants, called Material Recycling Facilities (MRFs), clean and sort recyclable materials for processing. This YouTube video from SciShow gives us a better scientific understanding of how these facilities work and the differences between recyclable materials. The video also notes that "depending on the MRF's capabilities, plus other factors like market demands, some of these plastics are recycled, while others are thrown away." Since each recycling program makes its own cost-benefit analysis, we often see some materials accepted in one area but not in another.
WATCH: How Recycling Works
How do we fix recycling?
After reviewing the problems with recycling in the U.S. as a result of Operation National Sword and general contamination and disorganization, this article from the State of the Planet from Columbia University illustrates the state of recycling in our country today as well as what can be done to fix it. The article breaks down several angles of response, which we will need, including legislation and innovation, and concludes that "the key to fixing recycling in the U.S. is developing the domestic market. This means improving the technology for sorting and recovering materials, incorporating more recycled material into products, getting these products into the marketplace and creating demand for them." Our country and the world will require a holistic and multi-faceted response to recycling, but promising signs indicate that we are beginning to get on the right track.
READ: Recycling in the US Is Broken. How Do We Fix It?  
What is the federal government doing about recycling?
This article by Waste Dive details the recent and upcoming federal legislation concerning recycling. It updates every few months to track the timeline and details of each bill or law. The laws vary in their progression through Congress and cover a range of issues, including innovation, infrastructure, education, procurement and reduction of plastic waste. The article points out that "depending on how this unfolds, dramatic shifts could be coming for federal recycling policy in the years ahead." Read this article to learn about current recycling legislation on the federal level.
READ: Waste Dive
What is the California government doing about recycling?
This article by Californians Against Waste details the recent and upcoming state legislation concerning recycling and other waste reduction efforts. Much like the federal laws, they are each progressing through the state legislature at different rates and the content of the legislation varies from market development to accessibility. The article emphasizes that "Waste reduction and recycling policy in California is at a crossroad, with serious challenges to the economic underpinnings of some programs, and a loss of public faith in its efficacy." Read this article to learn about current recycling legislation on the state level.
READ: Californians Against Waste
How does recycling work in San Diego?
The City of San Diego's Recycling Program is a division of the Environmental Services Department. The city website contains helpful links and videos that explain what is recyclable, how recycling works and what commitments the city has made in terms of zero waste and mandatory recycling. Browse this webpage to learn more about the current recycling programs as well as the 2012 Recycling Ordinance, which requires recycling at almost all places of residence and business.
What is recyclable on the UC San Diego main campus?
UC San Diego contracts with EDCO to collect and process our campus recyclables. Recycling on campus is single-stream, which means all recyclables can go in the same blue bin and do not have to be sorted ahead of time. Visit the EDCO Recycling Guide to learn what is recyclable on campus and the condition of items when they are placed in a blue recycling bin. You can also watch EDCO's videos about their recycling facility, plans for future projects and waste reduction goals.
What does this mean for individuals on campus or in San Diego?
Our own students from the Inter-Sustainability Council (ISC) host a podcast called Think Green. Their Recycling episode provides helpful information and tips for what individuals can do to recycle more efficiently, how recycling works on the UC San Diego campus and why reducing and reusing should be prioritized over recycling. They also touch on the topic of specialty recycling. Listen to the episode to learn what you need to know as an individual on campus regarding recycling.
LISTEN: Think Green
More Information
For more information, contact greenyourclassroom@ucsd.edu.