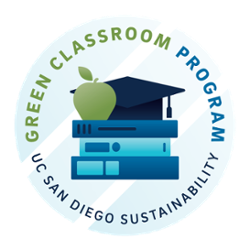 Green Classroom Program
Sustainability is a broad term that relates to many different topics. Green Classroom aims to help educate the campus community about sustainability issues and how they relate to UC San Diego specifically. UC San Diego educators can implement sustainable practices through the Green Classroom Certification program to operate more efficiently, save resources, help reduce UC San Diego's environmental impact and provide a positive example to students in the classroom.
Certification
The Green Classroom Certification (GCC) program helps campus educators, including university professors, childcare center teachers and Preuss School teachers, to promote resource conservation and receive recognition for their leadership in sustainability. The program team works with educators and their department to identify opportunities to implement or improve existing sustainable practices and earn points toward certification.
The Green Classroom Certification program strives to:
Help UC San Diego meet its Climate Action Plan goals related to energy efficiency, waste diversion and alternative transportation
Address opportunities for resource consumption savings in campus classrooms by providing a simple and efficient green certification process
Assist educators in reducing their resource use and in becoming a model for their students to notice and emulate
Increase sustainability education and awareness and promote conservation throughout the campus community
Create opportunities for students to gain experience and knowledge through their involvement with sustainability projects
Ensure that UC San Diego remains a world leader in sustainability through certifying, recognizing and awarding green practices and efforts within the campus community
Any UC San Diego educator who teaches in a university classroom, including at Early Care & Education centers and The Preuss School, can be certified.
The certification process is free!
Certified educators and their departments receive recognition for their sustainable efforts, accomplishments and innovations.
Departments with certified educators can display their commitment to modeling sustainability for their students.
Certified educators and departments help UC San Diego reach its Climate Action Plan goals, remain a leader in sustainable practices, reduce natural resource consumption and decrease our environmental impact.
The Green Classroom Certification process involves these steps.
An educator expresses interest in certification by completing the information card.
The certification team reviews the application and sends the educator the Green Classroom Survey to complete. The team reviews the completed survey and sends the Purchasing Survey to the individual that the educator indicated is responsible for making purchases on their behalf.
The certification team presents to the educator to provide:

A preliminary certification level by entering survey data into the GCC calculator
Gather feedback and make recommendations for adopting new sustainable practices that the educator can implement to increase their certification level.

The certification team awards the educator a recognition certificate. The team will add the individual to the list of certified educators below.
Certification lasts for two years. After the certification expires, an educator can apply for recertification.
Waste (recycling and waste reduction)
Energy (conservation and efficiency)
Paper and Printing (responsible printing and paper use)
Transportation (use of alternative transportation)
Participation (percentage of office staff involved)
Innovation (developing new sustainable practices)
| Certification Level | Points Earned |
| --- | --- |
| Platinum | 90+ |
| Gold | 80–89 |
| Silver | 70–79 |
| Bronze | 60–69 |
| Green | 50–59 |
Tips
Explore these tips to learn how you can implement more sustainable practices in your classroom.
Energy plays an essential part in classroom learning. To reduce classroom energy consumption, teachers and students must do their part as campus community members for us to meet UC San Diego's clean energy commitment. Take a look at the utilities dashboard to see which UC San Diego buildings use the most energy. A few simple practices can help to reduce energy use.
Lighting
Use natural lighting when adequate instead of turning on overhead lights. Studies have shown that using natural lighting reduces energy consumption by 22%. In addition, switching to natural lighting can help reduce eye strain and offer health benefits, such as increased vitamin D and protection against health risks associated with fluorescent bulbs.
Turn off lights when you leave the classroom. Using your room's lights only when needed will extend bulb life and conserve energy. Depending on the type of bulbs in your lights, energy.gov has helpful information on when you should turn off your lights.
Ventilation
Keep the thermostat set above 74°F on warm days and below 70°F on cold days. Keeping the set temperature on your room's thermostat closer to the outside temperature reduces energy consumption and cuts costs.
Open and close windows, doors and blinds to regulate temperature and control sunlight. Using San Diego's outdoor environment can help regulate your indoor temperature without using energy. However, never open windows or doors to regulate the temperature when the ventilation system is actively working. Doing so will force the system to work harder to regulate the set temperature, using more electricity.
Know how to contact maintenance to adjust the temperature when needed. Several resources are available for main campus buildings, Preuss School classrooms and the Early Childhood Education Center. Note that air conditioning is used to reduce the humidity in buildings. You may perceive that the campus is wasting energy by overcooling buildings, but by not reheating air to a more comfortable temperature, the campus is saving energy. Before you contact maintenance to report that you're feeling a bit chilly, consider bringing extra layers of clothing for those days when you might need it.
Electricity
Set classroom computers and tablets to energy-saving mode. Power-saving modes can save $30 in annual energy costs per unit, meaning that a classroom with multiple devices can reduce energy consumption considerably.
Turn off classroom computers and tablets when not in use. An effective way of saving energy is enabling "sleep mode" on computers and tablets if you are not actively using it for more than 20 minutes and turning it off for more than two hours of inactivity.
Turn off projectors and microphones after class. Turning off equipment that is not in use is a simple way to reduce a classroom's carbon footprint.

Depending on the model, projectors use up to 0.8kWh of electricity, which doesn't sound like much, but it adds up quickly if many classrooms and lecture halls leave projectors on for long periods of time.
Like projectors, microphones do not pull a large amount of power, but if left on, the amount of wasted energy accumulates.
On average, a school will typically use about 320,000 sheets of paper each year. With the shift to digital platforms, more people are using online documents instead of hardcopies. Decreased classroom paper use also resulted from the COVID-19 pandemic, which prevented students and teachers from exchanging paper documents, like assignments, reports and term papers. Online collaborative platforms, such as Google, Microsoft Teams, Zoom, Canvas and Slack, have made it possible for people to submit, share, view and edit files in real-time, reducing the need for printing. Decreasing your paper use can have measurable benefits for the environment.
Use digital forms and documents—syllabi, assignments, handouts, etc.—instead of hardcopies when possible. Using Canvas makes document sharing much easier! When you take the time to set up your assignments as Canvas items, you significantly reduce the amount of paper used and discarded.
Invest in reusable notebooks. To limit the amount of paper waste you and your students produce, consider purchasing reusable notebooks for your classroom. Rocketbook is a sustainable notebook option that can help you minimize your environmental impact. This device allows you to write notes and upload them to an online notebook and afterwards, you can erase the notes to reuse the notebook repeatedly.
Purchase at least 30% recycled paper. This Green America article explains how choosing 100% recycled paper reduces energy consumption by 31%, water consumption by 53%, solid municipal waste by 39% and tree use by 100%.
Purchase high-yield printer cartridges. High-yield cartridges can hold 50–100% more ink than standard cartridges, which reduces packaging waste.
Set margins to less than one inch. Setting margins to 3/4 inch or less increases the number of words that can fit on a page, which often results in printing fewer pages.
Use double-sided printing for handouts and exams when possible. Printing double-sided cuts your paper use in half, even when you allocate blank space between exam questions for handwritten responses.
Choose the UC San Diego Printer Refresh Exchange Program. The Printer Refresh Program provides a way for replacing a printer that is nearing the end of its useful life for a new, energy-efficient one for only $30. This gives you an opportunity to find a printer based on your needs, saves money, energy and paper, and reduces the amount of waste you produce.
The suppliers and companies you choose to purchase from can have a large impact on your carbon footprint. Taking time to explore manufacturers and their sustainability initiatives can significantly reduce the amount of waste and pollution you produce. Know where the company sources materials from, if they support both social and environmental justice and the type of product manufacturing facility. When you need new items, try to purchase secondhand first, avoid single-use products and invest in high-quality, long-lasting products.
Reference the UC Sustainable Practices guidelines when purchasing. These guidelines outline the requirements for products and services that are purchased in compliance with UC sustainability guidelines.
Purchase and dispose of items through UC San Diego Surplus Sales. UC San Diego Surplus Sales is a storehouse that sells gently used, excess, unused and decommissioned items, such as office furniture and lab equipment, to UC San Diego departments and the public. You can purchase items at a discounted rate while reducing the environmental impact of purchasing something new. Departments can also contact Surplus Sales to dispose of unwanted items.
Choose the most sustainable option for curriculum-based items. Buy gently used books and toys, sustainably sourced art materials and items packaged in recyclable material, etc.
Purchasing Recommendations
Rechargeable batteries: Classrooms use batteries for a variety of products, such as pointers, mic packs, remote controllers, clocks and mice. A sustainable way to save money and limit your carbon footprint is to invest in rechargeable batteries instead of purchasing single-use batteries. Rechargeable batteries can be used up to 500 times. Visit Call2Recycle to learn more about the difference between rechargeable and single-use batteries and find a drop-off location near you with an interactive map.
Markers from sustainably minded companies: When purchasing new school supplies, look for companies that support sustainable efforts, like Crayola. Research the markers you currently use to see if the manufacturer has opportunities for you to recycle instead of discarding them.
Refillable dry erase markers for teachers: The EPA estimates that Americans throw away approximately 1.6 billion disposable pens each year. Look into alternatives to purchasing new, such as finding products that offer refills, to reduce the amount of waste you produce, e.g., AusPen dry erase markers.
Mops with a reusable head: Single-use, disposable, dry and wet mop pads are convenient and make floor cleaning quick and easy, but they aren't recyclable and create unnecessary waste. Consider buying one of these mops with a reusable head.
Reusable cups: Most paper cups cannot be recycled in a blue bin because of the plastic coating used inside the cup to prevent beverages from leaking or melting it. If you can't use reusable cups, consider purchasing paper ones that are sourced sustainability and biodegrade easily. Plastic cups can be recycled in a blue bin, but they use many resources to manufacture, especially given their short lifespan. Many people turn to bio-based plastics, such as those made from PLA (Polylactic acid). Note that this material can only break down under certain conditions. Unlike a plastic cup, these can't be recycled and will linger in a landfill for hundreds of years if not diverted to a proper composting facility.
Bulk supplies: Buying regularly used supplies in bulk limits the carbon emissions from multiple shipments along with reducing the amount of packaging waste; it can also save money.
Minimally packaged food items: When purchasing food items for the classroom, look for companies that provide food packaged in bulk or food packaged in sustainable wrapping whenever possible.
Use Recommendations
Chalkboard: Know what ingredients are in your chalk sticks. Purchasing reusable chalk holders can extend the life of a chalk stick by reducing breakage and keep your hands clean. Follow these steps to clean your chalkboard sustainably.
Whiteboard: Use refillable markers like the Pilot V Board Master, teachers rated in this article. Refillable markers increase the lifespan of your writing instruments so you can get the most use out of them as possible while decreasing plastic waste. See some suggestions for cleaning a whiteboard using household items.
Paper easel: When reusable board options aren't available and you need to use a paper easel, be sure to purchase ones made from recycled paper. Remember to recycle the paper in a blue bin after use or find creative ways to repurpose it, such as drop cloths for art projects, scrap paper, etc.
Digital presentation: Using a screen, monitor or smartboard can eliminate the need for writing instruments and cleaning supplies. Always remember to turn off the device when not in use to conserve energy.
UC San Diego strives to divert at least 90% of materials from the landfill or incineration through recycling, repurposing, composting, etc. Understanding the correct place to dispose of your waste is essential for helping the university meet its goal. A few common items used in classrooms that cannot be thrown in the trash include batteries, electronics and ink cartridges. These products contain hazardous chemicals that can be released into the environment if not disposed of correctly. Visit recycle.ucsd.edu for more information.
Consider specialty-recycling programs, like those offered by TerraCycle. TerraCycle offers a variety of collection programs to help divert hard-to-recycle products from the landfill.
Use reusable food ware (cup, utensils, straw, plate, etc.) for beverages and food you eat while on campus. According to the Plastic Pollution Coalition, Americans use more than 100 million pieces of plastic utensils every day. An easy way to reduce the amount of disposable, plastic food ware is to keep reusable utensils in your work bag. When ordering food on campus, remember to decline the plastic ware that restaurants give you. If your items are bagged when you arrive, check for plastic utensils before you leave.
Using online versions of handouts, textbooks and readings efficiently decreases classroom paper use. According to the Starfish Journal, about 60% of school waste is paper. You can decrease the amount of paper used in the classroom by discouraging your TA's from collecting hardcopies of assignments, requiring/encouraging students to turn in digital copies of assignments and offering online versions of readings and textbooks. Doing schoolwork online can greatly reduce your carbon footprint.
Discourage students from printing your presentations for notetaking. Offer your slides in an electronic format using an application that is easy for students to annotate and save notes.
Getting involved on campus is a great way to increase your sustainability knowledge and share best practices to reduce your carbon footprint. You and your students can get involved in a variety of sustainability-focused clubs and events at UC San Diego. Champion your colleagues to include sustainability topics into their curricula, share campus sustainability resources and promote sustainability events. Encourage your students to stay connected with these organizations by following them on Instagram, Facebook and signing up for email updates.
Know how to report building maintenance and repair issues for classrooms. Use resources for main campus buildings, Preuss School support staff and the Early Childhood Education Center to find contact information for submitting reports. Notifying someone as soon as possible about issues like a water leak, malfunctioning equipment or faulty light fixtures can prevent wasted resources and potentially keep everyone in the classroom safe.
Know how to request recycling bins for your classroom or building if they are not already present. Request a recycling bin for your classroom:
Actively encourage your students to engage in more sustainable practices. According to Our World, educating students on accurate and relevant information about sustainability encourages the development and adoption of more environmentally conscious values and practices. Consider offering extra credit for students who take the Green Residence Self-Assessment and submit a screenshot of their score.
Include sustainability in your course curriculum. Use these Furman University tips and this Vanderbilt University webpage to learn how to integrate sustainability into your lessons. You can also find more information on how sustainability efforts work and their effects on our environment.
Review what is recyclable on campus with your students. Find details about recycling on the UC San Diego campus at recycle.ucsd.edu with printable guides and tips for discarding hard-to-dispose items. Research educational recycling games to make learning fun.
Take the stairs instead of the elevator when possible. By using the stairs instead of the elevator, you can reduce your building's energy consumption while getting some light exercise during the day!
Join the Staff Sustainability Network. Get connected with other like-minded staff by joining the Staff Sustainability Network. Then, you can contact their subcommittees, start a sustainability project of your own and sign up to volunteer for sustainability events around campus!
Attend a sustainability-related event (virtually or in-person). Sign up to receive the Inter-Sustainability Council's e-newsletter and check their calendar to see upcoming events.
According to the EPA, the U.S. transportation sector is one of the largest contributors of human-caused greenhouse gas emissions. Several options for traveling to, from and around campus have a lower environmental impact. When traveling longer distances for business purposes, consider purchasing carbon offsets from organizations like The Good Traveler to lower your impact from air and ground travel. Carbon offsets are a form of trade that fund projects that reduce greenhouse gas emissions. These projects can include greenhouse gas capture and sequestration or producing energy from cost-intensive, renewable sources.
Sustainability Learning Modules
Green Classroom offers Sustainability Learning Modules to educate campus community members about a variety of sustainability issues. These modules establish the broader context of topics, such as recycling, energy and water, and then narrow the focus to the UC San Diego campus.
Welcome to the wonderful and confusing world of recycling! Recycling is defined as the action or process of converting waste into reusable material. While recycling can be an important tool in reducing waste, greenhouse gas emissions and resource consumption, it is not the silver bullet solution as often presented. When considering the "three R's," Reduce and Reuse precede Recycle because they are much more reliable and efficient than simply recycling. With that in mind, we hope you will use this recycling module to help you better understand the broad context of recycling and the specifics relevant to our global region.
When did recycling begin?
Recycling is a problematic solution to waste and the plastic industries have known this from the beginning. However, in order to sell more plastics, they worked to assure the public that recycling was the easy and obvious solution most people think it is today. In this podcast episode of NPR's Planet Money, they explain that "there was a lot of discussion about how difficult it was to recycle. They knew that the infrastructure wasn't there to really have recycling amount to a whole lot" and yet, recycling plastic became the new normal.
LISTEN: Why Have We All Been Recycling Plastic For 30 Years? - Planet Money
Why is recycling so difficult?
In 2018, the nature of recycling changed worldwide due to the Chinese government's Operation National Sword. Until then, China was buying most of the world's recycling materials to turn them into new products, but not anymore. This 99% Invisible podcast (episode 341) explains, "in the wake of National Sword, it's been up to each individual recycling program to find new buyers wherever they can," and the recycling industry is now facing numerous challenges. This podcast episode does a great job of contextualizing the systematic flaws concerning waste production and diversion in our country, which only became more apparent with National Sword. Note: Stick around for the second half (26:45) to hear about an example of systematic change in recycling collection in Taiwan.
LISTEN: Episode 341 - National Sword (0:00 - 23:20)
What do recycling plants do?
U.S. recycling plants, called Material Recycling Facilities (MRFs), clean and sort recyclable materials for processing. This YouTube video from SciShow gives us a better scientific understanding of how these facilities work and the differences between recyclable materials. The video also notes that "depending on the MRF's capabilities, plus other factors like market demands, some of these plastics are recycled, while others are thrown away." Since each recycling program makes its own cost-benefit analysis, we often see some materials accepted in one area but not in another.
WATCH: How Recycling Works
How do we fix recycling?
After reviewing the problems with recycling in the U.S. as a result of Operation National Sword and general contamination and disorganization, this article from the State of the Planet from Columbia University illustrates the state of recycling in our country today as well as what can be done to fix it. The article breaks down several angles of response, which we will need, including legislation and innovation, and concludes that "the key to fixing recycling in the U.S. is developing the domestic market. This means improving the technology for sorting and recovering materials, incorporating more recycled material into products, getting these products into the marketplace and creating demand for them." Our country and the world will require a holistic and multi-faceted response to recycling, but promising signs indicate that we are beginning to get on the right track.
READ: Recycling in the US Is Broken. How Do We Fix It?  
What is the federal government doing about recycling?
This article by Waste Dive details the recent and upcoming federal legislation concerning recycling. It updates every few months to track the timeline and details of each bill or law. The laws vary in their progression through Congress and cover a range of issues, including innovation, infrastructure, education, procurement and reduction of plastic waste. The article points out that "depending on how this unfolds, dramatic shifts could be coming for federal recycling policy in the years ahead." Read this article to learn about current recycling legislation on the federal level.
READ: Waste Dive
What is the California government doing about recycling?
This article by Californians Against Waste details the recent and upcoming state legislation concerning recycling and other waste reduction efforts. Much like the federal laws, they are each progressing through the state legislature at different rates and the content of the legislation varies from market development to accessibility. The article emphasizes that "Waste reduction and recycling policy in California is at a crossroad, with serious challenges to the economic underpinnings of some programs, and a loss of public faith in its efficacy." Read this article to learn about current recycling legislation on the state level.
READ: Californians Against Waste
How does recycling work in San Diego?
The City of San Diego's Recycling Program is a division of the Environmental Services Department. The city website contains helpful links and videos that explain what is recyclable, how recycling works and what commitments the city has made in terms of zero waste and mandatory recycling. Browse this webpage to learn more about the current recycling programs as well as the 2012 Recycling Ordinance, which requires recycling at almost all places of residence and business.
BROWSE: Recycling Programs | Environmental Services
READ: Recycling Ordinance | Environmental Services
What is recyclable on the UC San Diego main campus?
UC San Diego contracts with EDCO to collect and process our campus recyclables. Recycling on campus is single-stream, which means all recyclables can go in the same blue bin and do not have to be sorted ahead of time. Visit the EDCO Recycling Guide to learn what is recyclable on campus and the condition of items when they are placed in a blue recycling bin. You can also watch EDCO's videos about their recycling facility, plans for future projects and waste reduction goals.
READ: Recycling Guide | Resource Center
WATCH: Videos | Resource Center
What does this mean for individuals on campus or in San Diego?
Our own students from the Inter-Sustainability Council (ISC) host a podcast called Think Green. Their Recycling episode provides helpful information and tips for what individuals can do to recycle more efficiently, how recycling works on the UC San Diego campus and why reducing and reusing should be prioritized over recycling. They also touch on the topic of specialty recycling. Listen to the episode to learn what you need to know as an individual on campus regarding recycling.
LISTEN: Think Green
In the world of food waste diversion, people tend to think of composting first. The term composting literally refers to decomposing organic materials into a nutrient-rich product, but it has become the general term for collecting and processing food waste. Technically, diverting food waste and plant matter from the landfill to turn into something else is referred to as organics recycling, which can include actual composting as well as anaerobic digestion and other methods. Whether it refers to an open-air pile in a backyard or an industrial facility recycling a city's organics, composting provides a crucial strategy for addressing climate change.
What is compost?
Compost is created by combining organic waste, such as food scraps, yard trimmings, and manure, adding bulking agents, such as wood chips as necessary to accelerate decomposition, and allowing the resulting organic material to break down. There are a variety of different ways to compost. This article from the U.S. Environmental Protection Agency touches on the main factors that must be "controlled" during composting and outlines the pros and cons of different types of composting, from residential to commercial. If you'd like to learn more about the process behind each type, this YouTube video by Garden Tips includes a brief overview of anaerobic, aerobic and vermicomposting.
READ: Types of Composting and Understanding the Process
WATCH: Composting Basics and Types of Composting
Why are landfills an ineffective way to dispose of food waste?
While food and yard waste does eventually decompose in a landfill, the way it decomposes produces much more greenhouse gas than it would in a compost pile. This short interview from Recycle.com explains the science of landfill decomposition vs. composting and discusses why we should be addressing how landfills manage their food waste while switching to composting systems whenever possible. This short video further explains the downsides of landfills and the  crucial need to divert food and yard waste.
READ: Compost vs Landfill 
WATCH: How Composting Helps to Save the Environment  
What is anaerobic digestion?
Anaerobic digestion uses bacteria to break down organic matter, but unlike normal composting, it requires the absence of oxygen. Many large-scale organics recycling facilities utilize anaerobic digestion since they are able to take in multiple materials at once through co-digestion. This can include materials that cannot be broken down usually in aerobic composting, such as oils and grease, which means much more post-consumer food waste can be recycled. The digestion process produces biogas, which can be used for things like generating electricity or making vehicle fuel, and digestate which can be a valuable fertilizer or made into bio-based products. This article written by the EPA provides more information on how anaerobic digestion works and why it is useful.
READ: How Does Anaerobic Digestion Work? | AgSTAR: Biogas Recovery in the Agriculture Sector 
What are the benefits of compost?
Compost is used to improve soil quality and help plants grow! Compost improves moisture retention and soil structure, while adding nutrients to the soil. Read the article below to learn more about the benefits of using compost in your gardens and its superiority to alternative options, like commercial fertilizer. On a greater scale, composting transforms the environmental and economic atmosphere of municipal areas. The United States is the largest producer of food waste in the world, disposing of 30-40% of the country's food supply. This article by Grow Ensemble, an agency working to make sustainability the norm, highlights the many ways that composting benefits the environment and the economy. It outlines the processes through which composting lowers greenhouse emissions, regenerates the soil, revitalizes water sources, fosters food security into the future, and more.
READ:
Are compostable and biodegradable products a good alternative to single-use plastic?
No! Unfortunately, the increasingly common single-use compostable/biodegradable cups, to-go containers and utensils are not necessarily better for the environment than the single-use plastic versions when looking at life cycle assessments. Read this article from Eater.com to learn why "an increase in compostables in the waste stream could, in fact, bungle up the composting process, create more trash and continue consumers' addiction to single-use items, detracting from the most environmentally beneficial practices: reducing and reusing." In addition, although every compostable item is biodegradable, not every biodegradable product is compostable. Read this article from The Good Trade to learn about the difference.
READ:
What is the composting infrastructure in the US?
While organics recycling is not nearly as common as plastics recycling, more composting facilities are starting to appear throughout the country. In a 2019 study, BioCycle identified a total of 185 full-scale food waste composting facilities in the United States. Take a look at this article from BioCycle to get a sense of the types of composting facilities throughout the United States, materials that are accepted by the facilities, and the difficulty in measuring the total food waste composted in the country. If you want to learn more details about the study, you can read the full report as well. To locate a composting facility near you, use the online Find a Composter portal, which is a free directory of composting facilities throughout North America. 
READ:
Find a Composter
Do other countries compost?
Yes. In fact, many countries around the world have embraced composting as a solution to food waste with more success than the United States. The European Composting Network is a membership organization with 66 members from 27 European countries. Explore their website that outline their mission to ensure that they protect soils for future generations and highlight their composting successes in Europe.
In South Korea, the 13,000 tons of food waste produced daily become one of three things: 30% compost, 60% animal feed and 10% biofuel. After making it illegal to send food waste to landfills in 2006, the country estimates that the economic benefit of this policy is billions of dollars. This article from the New Yorker examines South Korea's success, highlighting the financial incentivization, education and use of intermediary groups between people and the government that resulted in community engagement and long-term success.
BROWSE: European Composting Network
READ: How South Korea Is Composting Its Way to Sustainability
What are the obstacles facing composting infrastructure?
Composting is one of the cheapest, easiest and least disruptive ways for individuals to reduce carbon emissions and plastic pollution, yet it is surprisingly uncommon in the United States, with only 5-10% of the nation's food waste being composted. Why isn't composting more common, especially considering increasing public concern about climate change? This article by medium.com discusses the barriers to country-wide composting programs, from lack of access and public apathy to waste management companies that lobby against composting initiatives.
READ: Why Aren't We Composting All of Our Food Waste?
What is California doing to compost?
In California, organic waste accounts for two thirds of the state's material in the waste stream. The California Department of Resources Recycling and Recovery (CalRecycle) brings together the state's recycling and waste management programs. An important part of its mission is to increase the diversion of organic materials away from landfills and towards the production of value-added products, such as compost. As part of the strategy to reach the state's recycling goal by 2025, local governments will be required to provide organics recycling services to residents and businesses. This goal aims to reduce the amount of organic material sent to landfills by 75% and recover 20% of edible food that is thrown away. This article from Waste360 describes some of the regulations to reduce organic waste going to landfills, one of the largest sources of methane pollution in California.
READ: California: First State to Mandate Universal Composting
How do state laws impact the city of San Diego?
San Diego has been working towards organics recycling for some time, but the city recently picked up the pace in response to state laws. For nearly 30 years, Miramar Greenery has been accepting select organic waste materials from large organizations throughout the city. Read this article by CalRecycle from 2019 to learn about the Miramar Greenery and the history of composting in the City of San Diego. Now that things are speeding up, most, if not all, city residents should have access to composting along with their trash and recycling by the beginning of 2022. This Union Tribune article explains the changes that the city is working on to meet the new composting requirements and significantly decrease our city's food waste production.
READ:
What are my composting options on the UC San Diego campus?
As of spring 2021, the easiest place to compost food scraps and paper products on campus is our wonderful student-run gardens. Currently, four of the gardens are actively accepting organics from anyone willing to drop them off. Since they utilize open-air, or aerobic, composting, they cannot accept meat, dairy or oil products. Make sure to check their signs for details on what they accept, or check gardens.ucsd.edu for garden locations and items they collect. You can find contact information for each garden if you would like to get involved! You can also find compost collection locations and instructions on the UC San Diego map by navigating to "Sustainability" and then "Compost Locations." Happy Composting!
BROWSE: Plant a Garden
LOCATE: Campus Map  
Does UC San Diego compost campuswide?
UC San Diego sends all pre-consumer food waste, the food scraps discarded by foodservice staff in kitchens, and green waste to be composted at the city's Miramar Greenery. Beginning in fall 2021, EDCO will begin accepting organics from the campus including post-consumer food waste and paper products (such as paper towels and napkins) using their new anaerobic digester in Escondido. We are excited for organics recycling to become part of the institutional norm, but it will take all of us working together to make it a success! Stay tuned for more information later this summer and in the meantime, take a look at this information on Miramar Greenery and EDCO's new facility.
BROWSE: Miramar Greenery | Environmental Services
READ: Can EDCO Get San Diego to Cut Food Waste in Half?
WATCH: EDCO Anaerobic Digestion 
Can I compost at home?
Home composting is much easier than you think. Watch this video by Epic Gardening to learn about six different ways to compost no matter where you live. Additionally, in this podcast episode of Life Kit by NPR, Leonard Diggs, the director of operations of the Pie Ranch Farm in Northern California, talks about the different options for composting at home. Leonard started composting in the '70s and believes that the need to compost is more urgent than ever. Listen to the full podcast to learn more about the benefits of composting and the first steps towards composting on your own.
WATCH: 6 Different Ways to Compost 
LISTEN: How to Compost at Home 
While water covers more than 90% of our planet, only about 1% is liquid freshwater. Therefore, as population and demand for clean drinking water increases, we all must reexamine the ways we take water use for granted. A single solution will never solve the nuanced water conservation problem. Many facets of society must work together to restructure how we use this valuable resource.
This module:
Explains the context of the global water crisis and the consequences of how we currently use water
Provides examples of water conservation strategies and descriptions of the current state of international and local water use
What is the water crisis?
Although we often take clean water for granted, it is not as abundant as it seems. The world is facing a global water crisis such that, "by 2040, most of the world won't have enough water to meet demand year-round." While the planet will always possess the same amount of water, only 1% of Earth's water is liquid freshwater available for humans to use. With population growth and adverse effects of climate change, that water supply is becoming more limited. This Netflix documentary episode explains the factors restricting access to clean water and the need to strategize changing our water use to prepare for future decades. Watch the full episode to learn more about where we get our water, how we use it and how we should value it. Then, read this PEW article to learn more about how different cities, countries and institutions around the world have begun to address the water crisis by revitalizing the water cycle.
WATCH: Explained | World's Water Crisis | FULL EPISODE | Netflix
READ: The Water Cycle is Broken But We Can Fix It
What can we do to reduce water waste?
Since we all share Earth's water, each of us must take responsibility for the water we use. Your everyday choices can significantly reduce your water footprint, including the food you eat, the products you consume and the direct water you use. You can also support activities that can help others make water use more sustainable. Read this Green Action Center article and visit their website to learn more about what you can do to conserve water. We should also work to prevent water contamination, since pollution is one of the major contributing factors to non-usable water. Watch this greentreks video to learn more about how to prevent water pollution, including good management practices of farms and industrial sites and controlling runoffs from roofs and driveways. Conserving and protecting water is as much a personal endeavor as it is an institutional one, which means we can all do our part to address the water crisis.
READ:
Clean Water: A Long Journey from the Source to Our Tap
Does water conservation matter even in water rich areas?
Water conservation is imperative even in places with high rainfall and ample surface water because the demand for fresh drinking water increases with population growth. Though water is recycled naturally, different stages of the water cycle can take a long time to complete. For example, it can take thousands of years to refill a completely drained underground aquifer, even in areas with high rainfall. In areas with little precipitation and those that use water faster than it can be replenished naturally, water becomes nonrenewable at a local level. Thus, as this Sustainable Living article discusses, even if you live in an area with a lot of water, conserving it is important for human consumption, industry, wildlife and the environment. Waste and overuse will deplete the supply of any common resource.
READ: Why Conserve Water if it's Renewable?
What is groundwater and how do we conserve it?
Groundwater fills aquifers, the spaces between and within rocks below the water table. The water table level varies from location to location, which means groundwater accessibility also varies. This National Geographic explanation of the water table provides information on the science behind groundwater and the factors that affect it. While groundwater is a valuable resource, we don't often consider it that way. Today, many factors threaten groundwater supplies, from overuse and depletion to contamination and poor infrastructure. The Groundwater Foundation's website describes groundwater and the threats it faces.
READ: Water Table
BROWSE: Get Informed : The Basics : What is Groundwater
Why doesn't stormwater replenish our water supplies?
Ideally, precipitation from storms soaking the ground would replenish aquifers, lakes and rivers; however, our populated areas now contain too many "impervious surfaces," such as pavement and roofs. This prevents rain from soaking in below the water table and instead, collects pollutants that runoff into the rivers and oceans. To mitigate runoff effects, many areas are employing new strategies to capture rainwater before pollutants contaminate it. Read this American Rivers article to learn more about the problems stormwater poses for our freshwater supplies. Then, visit the EPA website, which provides a series of articles through their Soak Up the Rain campaign to explain why stormwater is so important and what we can do to recharge our water supplies instead of polluting them.
READ: How Stormwater Affects Your Rivers
BROWSE: US EPA Soak Up the Rain
Why is water privatization an ineffective solution to the water crisis?
As global population increases, the demand for clean drinking water follows. Water has become an increasingly valuable and scarce resource, but the economic market doesn't reflect its value. Water rights can be purchased for far less than they are actually worth to local populations and companies can then bottle and sell the water for a profit elsewhere. Research has proven that privatization overstresses local water tables and leads to a loss of equality in utilities access. Nestle is infamous for using false promises of jobs to entice towns to sell their water and then selling it back to them at a profit. The Guardian article below discusses the Six Nations of the Grand River indigenous reserve in Ontario, Canada, where the majority of residents have no access to clean drinking water, while Nestle extracts millions of litres of water from their land. The video linked below features a town in Michigan where Nestle pays next to nothing for the water it pumps, while the residents protest increasingly evident signs of environmental degradation.
READ: While Nestlé extracts millions of litres from their land, residents have no drinking water
WATCH: How Nestle makes billions bottling free water
What is wastewater treatment and reclamation?
When water goes down the drains in U.S. buildings and residences, it travels to a wastewater treatment plant to be treated and disinfected before often being released back into the environment. This U.S. Geological Survey (USGS) webpage gives a quick definition of wastewater and its treatment. While we hope that wastewater treatment prevents pollutants from affecting the environment, we can go a step further by reclaiming the water for reuse in irrigation, utilities and drinking water. Recycling this water can be a valuable tool in water conservation and reducing our dependence on local water sources. This Marketwired article provides ten reasons why wastewater recycling is beneficial to our environment and economy. Reclaimed wastewater facilities are more common in states like California than others; this Federal Energy Management Program map shows the location of all U.S. reclamation facilities.
READ:
BROWSE: Reclaimed Wastewater Map
What is desalination?
Desalination is the process of removing salt from seawater and turning it into fresh water for consumption. The number of desalination plants is slowly increasing around the world and they have proven to be a useful tool in supplementing water sources and preventing shortages. However, water desalination is not perfect and its drawbacks mean it cannot be the sole solution in addressing the water crisis. Desalination consumes a lot of energy and we are working to make the process more sustainable by applying renewable energy and repurposing the briny byproduct instead of discharging it into the ocean. This New York Times article explains how desalination works and what obstacles it still poses to countries. Here in San Diego County, the Carlsbad Desalination Plant opened in 2015, which is the largest desalination plant in North America. Visit the San Diego County Water Authority website to learn more about local desalination and watch this Scishow video to learn more about the science behind desalination and how it California uses it.
READ: The World Can Make More Water from the Sea, but at What Cost? (Published 2019)
BROWSE: Seawater Desalination
WATCH: Can Seawater Fix California's Drought?
How do we use water?
Most of the U.S. has access to safe, treated water by turning on the tap. According to the Environmental Protection Agency (EPA), the average U.S. household uses more than 300 gallons of water per day. Visit the EPA webpage on water use to learn more about how Americans use water. There are two types of water use: direct and virtual. The consumer can see direct water use, such as watering a lawn or washing dishes. Virtual water use is less obvious, because it occurs in each step of the production process of the goods that you buy. It accounts for surface water, ground water, rainwater and water used to make wastewater generated in manufacturing safe for reuse. The term "water footprint" represents the amount of water used to produce each of the goods and services that we use. The Water Footprint Calculator webpage publishes articles about the water that goes into consumer goods and daily actions, as well as providing a tool for measuring your personal water use.
READ: How We Use Water | WaterSense | US EPA
BROWSE: Water Footprints 101: Your Direct and Virtual Water Use
Which countries use the most water?
The United States is not the only country contributing to the water crisis with wasteful practices and ineffective infrastructure. In fact, Canada wastes the most water per capita when combining domestic water use with industrial and agricultural consumption, with the average Canadian using the equivalent of 200 bathtubs full of water annually. Earth.org has identified the seven countries with the highest domestic water consumption per capita. Read the article below for a brief overview of the industries and infrastructure that contribute to each country's wasteful relationship with water. 
READ: 7 Countries That Waste the Most Water
Where does your tap and bottled drinking water come from?
In the U.S., 64% of public water systems rely on surface water, such as rivers and lakes. The remaining 36% comes from groundwater stored in aquifers. Despite the misconception that bottled water is safer than tap water, U.S. tap water is perfectly safe with very few exceptions. Interesting Engineering's video details the extensive filtering, cleaning and testing process water undergoes before it flows from your tap. In fact, according to The Pelican Water blog, nearly 50% of bottled water is "purified water," or filtered or treated municipal tap water. The remaining 50% of bottled water is derived from "spring water," which is defined by the EPA as water collected "where water flows naturally to the earth's surface or from a borehole that taps into the underground source." Read the full blog post below to learn more about the misleading marketing of bottled water companies.
WATCH: How do we get clean drinking water?
READ: Where Does Your Bottled Water Really Come From?
Which industries consume the most water?
All industries have a certain water footprint, but some require a higher amount of freshwater than others. Worldwide industry water use represents a significant portion of total water use. The most water consuming sectors of the economy are agriculture, fashion, energy, meat, beverages, construction, mining and car industries. Agriculture uses 70% of the world's freshwater and is a major source of water pollution as a result fertilizer and insecticide use. Read the 2030 builders article about industries that consume the most water in the world and the World Bank article to learn more specifically about water use in agriculture. Visit the EPA website to learn more about water use at industrial facilities.
READ:
BROWSE: Water Use at Industrial Facilities | US EPA
What is the current state of the United States water infrastructure?
Our country's water infrastructure is crucial to meeting our current and future water needs and it desperately needs improvement. The American Society of Civil Engineers (ASCE) released its 2021 report card on America's infrastructure and it gave the nation a C- and D+ for drinking water and wastewater infrastructure, respectively. The report found our system is aging and underfunded and we lose about six billion gallons of treated water each day to pipe breaks and leaks. The reports analyze different aspects of American water infrastructure and provide recommendations for how to improve the grades in the future. The ASCE also provides report cards for each state that go into detail on a local scale. Our water infrastructure requires more attention and investment if it is to continue managing our complicated use and disposal of water nationwide.
READ:
Where does California get its water?
Each area in California has different water needs due to the variation of climate and geology throughout the state. As a result, Californians get their water from several sources, from mountain snow to reservoirs and out of state sources like the Colorado River. This diversity in the state becomes a problem when some areas are far less resilient to drought than others. In California, "we have a patchwork in part because (water) is managed locally," and small regions often have to fend for themselves instead of the state acting as a cohesive unit. This CalMatters article explains where the discrepancies in California water shortages fall and how the state's patchwork infrastructure affects the state so often in drought.
READ: California water shortages: Why some places are running out
How does San Diego manage water use?
The City of San Diego focuses on water conservation year-round and provides information and opportunities to residents and businesses that discourage water waste. In San Diego, "permanent water use restrictions remain in effect regardless of the drought status," and the city offers several rebates to make water saving options more affordable. The city website provides information on current water use restrictions, tips on how to save water, and tools on how to report water waste to make infrastructure repairs more efficient. Visit their water conservation webpage to learn more about San Diegans' personal responsibility when it comes to water and how the city works to enforce it.
BROWSE: Water Conservation | Public Utilities
What does UC San Diego do to conserve water?
UC San Diego is committed to reducing water consumption by 36% by 2025, when compared to a three-year average baseline of FY 2005-06, FY 2006-07 and FY 2007-08. Additionally, the campus is required to meet the standards and restrictions established by California and the City of San Diego. The campus uses several strategies for eliminating water waste and decreasing water consumption in all areas. These strategies include the use of Automatic Meter Readings to identify leaks or irregular patterns and respond quickly, expansion of recycled water irrigation and converting turf areas to no-water-use landscape with drought-tolerant plants. Visit the UC San Diego water conservation page to read more about the campus's efforts to conserve water and our recent progress.
READ:
Campus Water Conservation Efforts
Modern western society is built upon the doctrines of materialism and consumerism. As defined by Merriam Webster, consumerism is "the theory that an increasing consumption of goods is economically desirable and a preoccupation with and an inclination toward the buying of consumer goods," and materialism is "an idea that the only or the highest values or objectives lie in material well-being and in the furtherance of material progress." Historically, humanity's inclination towards consumerism and materialism was much less dramatic. In the past century however, a steep rise in the production and consumption of products has had varied and broad-reaching negative impacts on the environment. The human desire for stuff is the underlying premise throughout all our conversations about waste, greenhouse gas emissions and conservation. Learning more about the rise of consumer culture can help us understand its roots and negative implications and possibly allow us to break free to pursue a more environmentally conscious way of life.
What impacts of consumer culture do we see today and what can we expect in the future if we continue at the current rate?
A recent study found that, for the first time in human history, human-made mass has surpassed all living mass on the globe. As globalization accelerates, Americans are increasingly relying on natural resources and ecosystem services around the world to support their consumption patterns. According to The World Counts, scientists project that if consumption continues at the current rate, coupled with a steadily growing number of consumers, the Earth's support systems may collapse in just 30 years, signaling the end of the world, as we know it. The World Counts provides sobering numerical realities of the downstream financial and environmental impact of our reliance on disposables and thirst for new things. Ecosystems and finances aren't the only casualties, as the American Psychological Association article outlines the parallels between the rise of materialism and a decrease in overall contentment, indicating that our consumptive habits negatively affect our mental health as well.
Peruse this BBC article for speculation into the origins of humans' obsession with accumulating more stuff and a stark examination of the consequences. The article concludes with the staggering assertion that unless humans reduce consumption, drastically changing the way we live our lives, our own materialism might consume both our species and the planet sooner than we think.
READ:
How did modern consumerism develop in the United States?
A century ago, the idea of using an item once and then discarding it would have seemed ridiculous and wasteful. Today, we live in a society where everything is disposable and few products marketed to consumers are necessities made to last. Many people don't realize that this excessive, throwaway world was made largely by design. At the turn of the century, the transition from small retail shops to corporate giants created immense productive powers, which could finally meet the basic needs of the entire population. According to Kerryn Higgs, faced with a permanent state of overproduction and a loss of continued growth, "the traditional objective of making products for their self-evident usefulness was displaced by the goal of profit and the need for a machinery of enticement." In short, companies saw consumerism as a business model, which relied on people continuing to buy new items.
Read Kerryn's article for a deep dive into the intentional cultivation of unending consumer desire in order to support perpetual economic growth within the capitalist model. Then, the article by Tabitha Whiting zooms in further, highlighting the oil industry's vital role in the rise of our "throwaway" society. The American Psychological Society article discusses the advertising tactics and cultural shifts that have driven Americans to become the greatest consumers in the world.
READ:
What is the difference between planned and perceived obsolescence and how do companies use these strategies to their advantage?
Planned and perceived obsolescence are strategies used to guarantee that consumers will replace products constantly, thus bolstering demand and ensuring continual profit for manufacturers. In the early 1900s, the leading manufacturers of the lightbulb colluded to shorten the lifespan of all lightbulbs from 2,500 hours to 1,000 hours and "planned obsolescence" was born. Since then, advertisers have begun to employ perceived obsolescence, convincing consumers that they need an updated product based on social status or style, even though their existing product is working well. Watch Our Changing Climate's video for poignant examples of each strategy used today and an exploration of possible solutions.
WATCH: Planned Obsolescence Sucks. Here's Why It Still Exists.
How can companies change their business models to prevent the negative effects of consumerism?
Our current economic system incentivizes companies and consumers to follow a linear economic model, which involves making brand new products, which eventually become waste. However, some companies are attempting to integrate a circular approach to their business models. This Acciona video provides a simple explanation of why linear economics will not work to sustain our planet long term and the basics of why a circular approach is needed. Then, Patagonia describes its efforts to engage in a circular economic model and how its failures as well as successes help explain why circular models are so difficult but so important. Read the article to learn more about what this circularity in production might look like and where the obstacles lie.
WATCH:
Consumer Society - Sustainability
READ:
Our Quest for Circularity - Patagonia Patagonia's journey toward zero waste and reduced carbon emissions, failed experiments
What is Greenwashing?
With the rise of consumerism, individuals inevitably became concerned about the impact of their spending habits. In response to the environmentalism movement, businesses adapted their advertising strategies to ensure continued consumption. The term "greenwashing" was coined in the 1980s to describe the practice of making misleading sustainability claims to stimulate sales from concerned consumers and conceal a questionable environmental record. This article from The Guardian delves deeper into its origins. After reading the article, spend a few minutes watching this Bloomberg Quicktake video to learn about the increasingly sophisticated greenwashing strategies that companies employ today. Unfortunately, despite the growing public awareness of greenwashing tactics and its damaging consequences, governments have mostly failed to set universal environmental standards. In the case of existing mandates, lazy reporting standards weaken their efficacy. Review this Forbes' article to learn about potential legislative solutions.
READ:
Are You Falling for Corporate Greenwashing?
How does American consumption compare to other countries?
As a species, humanity continues to consume more of Earth's resources than it can produce. In fact, according to the Hungry Planet, "it takes the planet 1.5 years to restore what humanity burns through in a year," which means we are "outstripping the Earth's resources by 50 percent—essentially using the resources of one and a half Earths every year." In 2013, Hungry Planet developed an infographic and fact sheet to break down the resources humans use and compare countries in various categories including ecological demand, energy use, waste generated, and more. Take a look to gain a better understanding of how the way you lived almost ten years ago differed from others around the globe and imagine how much more we affect the Earth today. Americans consume far more products and resources than the average Earthling; studies estimate that it would take five Earths to support the global population if everyone consumed as much as the typical American. Read this factsheet from the University of Michigan to learn more about the U.S. Environmental Footprint.
READ:
Is better waste management the solution to human consumerism?
Around the world, communities are beginning to make the connection between traditional waste management systems, associated health problems and environmental degradation. A town in Japan produces almost no trash. This short Great Big Story video explores the process through which the citizens rebuilt their waste management system after decades of burning or dumping trash in nature. Watch the video to learn more about their implementation of a complex waste classification and disposal system. Though this is an excellent example of small-scale innovation and change, it required an overhaul of the town's mindset and infrastructure, which would likely be impeded by expense, convenience and citizen support on a larger scale. Therefore, improving waste management alone will not be the remedy to our current consumption habits. Ultimately, a reduction in waste produced, through systemic change and societal restructuring, combined with improved waste management systems, is necessary to accomplish global change.
WATCH: Japan's Town with No Waste
What are the regulations for single-use items in the US?
Single-use plastics are most commonly used for packaging and service ware, such as bottles, wrappers, straws and bags. Reducing plastic use is the most effective means of avoiding this waste. Eight states¾California, Connecticut, Delaware, Hawaii, Maine, New York, Oregon and Vermont¾have banned the use of plastic bags in grocery stores and other businesses. New Jersey will join the list soon as its legislature recently passed a ban. Some cities, such as Boston, Chicago and Seattle, have also enacted plastic bag bans. In addition to plastic bags, Vermont's ban also placed restrictions on single-use straws and polystyrene containers. Malibu, Berkeley, Seattle and Miami Beach are among the U.S. cities to outlaw plastic straws. These bans prevent millions of tons of plastic from entering the waste stream each year and work to change the consumer behavior. Read this article from ABCNews to learn more about plastic bans and review this website for the Break Free from Plastic Pollution Act of 2021, sponsored by Sen. Jeff Merkley (OR) and Rep. Alan Lowenthal (CA).
READ:
What regulations does the state of California have in place for single-use items?
In August 2014, California became the first state to enact legislation imposing a statewide ban on single-use plastic bags at large retail stores. Instead, stores at certain locations may provide customers recycled paper bags, reusable plastic bags, or compostable bags, charging at least 10 cents per bag. This ban reduced plastic bag usage by 85% and has reduced coastal pollution. Review the National Conference of States Legislature website to learn more about plastic bag legislation in California (and in other states).
In 2018, California banned plastic drinking straws and in 2019, legislators passed a bill modeled on an ordinance adopted by Santa Cruz to outlaw plastic hotel toiletry bottles. Beyond these impacts, companies are forced to innovate, rethinking their designs and sourcing sustainable materials. 
BROWSE: Plastic Bag Legislation | NCLS
How is UC San Diego reducing waste and consumption?
At UC San Diego, many departments and entities work on different aspects of waste diversion and reduction. Explore this website to get an overview of the campus's Zero Waste efforts. In addition, Procurement & Contracts works with campus-preferred vendors to identify green products, reduce packaging and provide options for consolidating orders while it manages and advises on product purchases for campus entities. Several services are available to the campus community to make waste reduction more routine. For example, Surplus Sales operates a warehouse outlet that sells reusable items. Visit their website to learn more about how they provide a space for repurposing items responsibly. Consumers can also choose to consolidate their orders when purchasing from Amazon or Oracle to minimize impacts from packaging and transportation. Finally, UC San Diego's Core Bio and Chemistry & Biochemistry Stockroom offer a variety of laboratory and office products to campus researchers.
BROWSE:
What choices can individuals make that have the most impact?
The average carbon footprint for a person in the United States is 16 tons, one of the highest rates in the world. Globally, the average is four times less, closer to four tons. To have a chance of avoiding a 2° C rise in global temperatures, the average global carbon footprint per year needs to drop under two tons by 2050. Consumers play a significant part in reducing emissions and slowing climate change by making environmentally friendly lifestyle choices. A poll by the World Economic Forum asked individuals from seven countries—United States, United Kingdom, China, Germany, Spain, Italy and France—which, if any, sustainability-related behaviors they expect to implement in 2021. One of the most popular responses was recycling or reusing products for another purpose. Consumers are also committed to driving less, but not necessarily taking more mass transit. Read this article from the World Economic Forum to learn more about the sustainable choices people around the world are already making.
As consumers, the first step towards a greener lifestyle is appreciating the link between our own behavior and its impact on the environment. Reducing your impact is not only about eliminating single-use items and disposing of your waste properly, but also about buying fewer items overall, reusing things that you already own and buying used when possible. The Beginners Guide to Zero Waste Living blog post breaks down the first ten steps to changing your mindset and habits to live a less wasteful or "zero waste" lifestyle. Another article from the World Economic Forum explains some ways to start to make a difference in your life, like understanding your own direct and indirect emissions. Using the Nature Conservancy calculator, you can find out your own carbon footprint and start making small changes to your daily life. Review these resources for some ideas on how to improve your consumer choices and help your family and friends to understand their impact as well.
READ:
What Is Your Carbon Footprint? | Calculator
Most people make their purchase decisions based on price, brand, trendiness and personal preference. They should also consider the environmental consequences of the item they are buying, such as its production, use and disposal. Concern with a product's ecological footprint, in all stages of its life, is known as life cycle thinking, which is an important perspective for the establishment of responsible and sustainable production and consumption patterns. If consumers demand sustainable products, from the raw material sourcing to end of life disposal or reuse options, manufacturers will be forced to adjust their supply chains accordingly. In this module, we will review each stage of the linear product life cycle and the tools used to assess a product's overall environmental impact.
What is a Life Cycle Assessment?
When considering which items are more sustainable than others, we must look further than the waste they generate. Scientists can study the full environmental impact of a product through a Life Cycle Assessment (LCA), which examines all the factors involved in its production, use and disposal. When we consider an item's life cycle like this, the total environmental impact can be greater than expected. Read this medium.com article to learn more about Life Cycle Thinking, where it came from and why it is useful. Then, watch this SciShow YouTube video that explains how LCAs work, using the comparative environmental impacts of grocery bag options as an example. These resources teach us about the types of considerations we must make when deciding which products are best for the environment.
READ: A Guide to Life Cycle Thinking. Absolutely everything that is created… | by Leyla Acaroglu | Disruptive Design
WATCH: The Real Greenest Bag
BROWSE: Act - About
How does a product's cradle-to-grave life cycle affect the environment?
The production of consumer goods affects our climate and environment in ways we often do not see. Manufacturing involves sourcing and consuming resources, emitting greenhouse gases and other air pollutants, water contamination and toxic waste disposal. The Life Cycle Assessment tool breaks these impacts into these five stages.
Material Extraction and Processing: From the cotton in your T-shirt, to the sugar in your cookie, the items you use daily were made with materials that were extracted from the natural world. In some cases, the materials were extracted from existing products to be reused or recycled into new products. Regardless, huge amounts of material are often needed for a small product, like your iPhone. When considering a product's environmental impact, you should first examine the process through which the raw materials used were sourced. According to the Guardian article below, extractive industries, like mining and farming, are responsible for more than half of the world's carbon emissions and 85% of biodiversity loss. To learn about increasing extraction rates and the impact on the environment, read: Resource extraction responsible for half world's carbon emissions
Manufacturing: The environmental impact of the manufacturing process itself can be broken into two categories - inputs and outputs. Manufacturing inputs include all components that contribute to producing a product, like land, water and electricity. Outputs are typically waste materials, like greenhouse gases, contaminated water and chemical byproducts.
Packaging and Transportation:

The environmental impact of packaging materials, defined as materials used to wrap or protect goods, include both the effects of manufacturing the packaging and the impact of disposing it after use. In the manufacture and distribution process, they use natural resources, energy and water, which can result in the generation of byproducts, some of them toxic to the environment. Unfortunately, many packaging products are designed to be single use and most of them, like soft plastics, do not break down quickly, if at all, meaning that they will end up in a landfill for a long time.
The transportation of raw materials, finished products and employees can result in air, noise and/or water pollution and disruption of wildlife habitats. Before nation-wide distribution, a single product can be transported by plane or marine vessel multiple times. Trucks, barges and rails used to transport products are powered by fossil fuels, which release large quantities of carbon dioxide into the air when burned. When you purchase goods produced in your local community, you help reduce the miles that they travel to get to you, fuel consumption and air pollution, reducing the environmental impact of the product you are buying. To learn about some advantages of buying locally, read this Green Business Bureau article: Buying Locally: Pros and Cons

Use: During their use, products negatively affect the environment through their consumption of resources, like energy and water. They can also release air and/or water pollution, causing additional damage to ecosystems. For example, a washing machine uses water and energy every time it is run throughout the course of its useful life. It also releases synthetic chemicals used in conventional laundry detergents into the environment. These chemicals are harmful to people and wildlife. As consumers increasingly adopt life cycle thinking, sustainably minded manufacturers are developing products that have less impact on the planet during use. Washing machine manufacturers focus on efficiency, reducing the resources needed for each load of laundry. And, several non-toxic detergents on the market are less harmful when released into the water cycle.
End of Life:

Each manufactured product has a different lifespan, depending on the durability, relevance and intended use of the product. However, some companies use "planned obsolescence" to manipulate the consumer's perception of a product's functionality and durability to prompt them to dispose of an item prematurely. This strategy is particularly prominent in technology, where companies constantly release new versions and upgrades, while preventing consumers from maintaining their current products, to make them seem obsolete. Read this medium.com article to learn more about how manufacturers manipulate product end of life and how consumers are fighting for the "right to repair:" Our Right to Repair| by Leyla Acaroglu | Disruptive Design
In a linear system, like the one we have now, a product ends its life with disposal, usually in a landfill. Sometimes, parts or all of a product can be recycled or reused for different purposes and they create a circular system by returning to the material extraction phase. While that happens with some items already, far too many products are thrown in a landfill, where they produce pollutants and greenhouse gases. Since our available resources are finite, our global economy will need to improve its ability to work within a circular life cycle system as opposed to a linear one. Circle Economy provides a Circular Product Design Framework to demonstrate how products can be designed to reenter the economy at end of life instead of being thrown away. READ: The Circular Product Design Framework - Insights
Now that you know each step of the life cycle process, explore these resources to get the complete picture. First, this webpage by the EU Science Hub breaks down the scale and types of environmental impacts each stage of the supply chain produces when considering the "cradle-to-grave" perspective for materials. The video by ClickView explains the factors to consider in the sourcing, manufacturing, and disposal of products, and provides an argument for manufacturing using recycled materials to divert waste and avoid using new resources. "The Story of Stuff" reveals the social and environmental inequalities implicit in our linear production system.
BROWSE: Raw Materials Information System
WATCH:
What can manufacturers do to reduce their environmental impact?
While there is plenty of room to grow, there are options available for companies who seek to mitigate the negative effects production and manufacturing have on the environment. This UN Climate Change News article explains their partnership with the Coalition on Materials Emissions Transparency (COMET) to create a framework companies can use to better understand their climate impact in order to reduce them. This podcast episode from SupplyChainBrain explores how consumers are pushing companies towards ethical and visible sourcing, using H&M Clothing Retail Company as an example for the possible strategies that could be applied. And, read this ZeroWaste article to learn more about how companies are able to divert their production and manufacturing waste from the landfill and which companies stand out as the leaders in zero waste.
READ:
LISTEN: SupplyChainBrain Podcast
How did COVID-19 affect global supply chains and their move towards sustainability?
The COVID-19 pandemic revealed glaring structural weakness in the global supply chain. When economies worldwide went into lockdown and demand for goods plummeted, companies responded by slowing supply. Soon afterward, thanks to fiscal stimulus and a downturn in COVID cases, consumer demand abruptly skyrocketed. As manufacturing restarted and international trade resumed, it became clear that the system had already deteriorated past the point of a speedy recovery. Read Forbes' article about the challenges faced by each link in the supply chain and the downstream impacts of continued disruption. Harvard reveals the resulting downturn in global sentiment towards international trade in its article "Global Supply Chains in a Post-Pandemic World" and calls for the development of a more resilient system. For a more uplifting perspective, read the following MIT article to learn about the pressures driving the continued push for supply chain sustainability. According to a large-scale international survey of supply chain professionals, the pandemic had no impact or increased commitments to sustainability as a business imperative.
READ:
How does UC San Diego consider product life cycles when making procurement decisions?
As part of the Sustainable Practices Policy, the University of California follows a systemwide procurement strategy that focuses on the environmental impacts of purchasing decisions. According to university policy, sustainable procurement aims to reduce unnecessary purchasing first, then prioritizes the purchase of surplus or multiple-use products before purchasing recyclable or compostable products. When making these decisions, buyers look for products with green certifications that address one, multiple or all stages of the product life cycle. For example, the ENERGY STAR™ program identifies electronics and appliances, which consume less electricity than their counterparts. More broadly, the Green Seal certification encompasses the environmental impact of cleaning and building materials from raw materials extraction, manufacturing and use, to reuse or disposal. Review the University of California's Sustainable Procurement Guidelines to learn about the other green certifications that university buyers consider when selecting everything from electronics to furniture to cleaning chemicals.
READ: UC Sustainable Procurement Guidelines
How can individual consumers evaluate a product's life cycle when choosing the most sustainable option?
The most sustainable option when considering a purchase is to abstain or to purchase a secondhand item. Many different places offer high-quality used products, from traditional retail thrift stores to online marketplaces, like OfferUp and Craigslist, to online consignment websites, like ThredUp. When you absolutely need a new item, the greenest choice is a sustainably produced item that was made to last. There are many factors to consider when evaluating the eco-friendliness of a product. Luckily, tools, evaluation systems and green labels consider those factors for you.
According to "Are Green Labels Legitimate or Just Greenwashing?" by Scientific American, Americans' confidence in green labels reached a low in 2011. To address this, the Federal Trade Commission created Green Guides. To learn about their efforts, browse the "Guides for the Use of Environmental Marketing Claims," designed to encourage marketers to avoid making environmental claims that mislead consumers. While some green labels and certifications are unregulated or meaningless, you can trust many of them. The "Environmental Labels in North America: A Guide for Consumers" provides a comprehensive list of trustworthy green labels in North America. For example, the ACT label by MyGreenLab provides information that researchers can use to reduce the environmental impact of their lab purchases.
In addition to green labels, there are formal evaluation systems like Life Cycle Assessment (LCA). According to the European Trade commission, the LCA is currently the best framework for evaluating environmental impacts of products. As a consumer, the best way to access this framework is to find the Environmental Product Declaration (EPD), a document that provides the results of a product's LCA. Watch The AudioPedia's video on Environmental Product Declarations to learn more. ECONYL provides an excellent example of the factors evaluated in a LCA using their jeans as an example in the article below.
If you cannot find a LCA conducted by a company or a reputable green label, browse the company's website and product description to determine its sourcing and manufacturing processes. Ask yourself, do they have an end-of-life recycling program or do they specifically call out the sustainable and unsustainable parts of their production process? Sustainably minded retailers often outline their product's life cycle on their website in an effort towards transparency. Ultimately, the key to sustainable purchasing as an individual consumer is critical thinking and discernment. It is a willingness to spend time analyzing each step of the product's life cycle and potentially more money on a sustainably produced product that was made to last. And, always asking yourself if it is something that you cannot live without?
WATCH: What is ENVIRONMENTAL PRODUCT DECLARATION?
READ:
BROWSE:
Before discussing energy, we need to clarify the difference between energy, power, and electricity, terms that are often mistakenly used interchangeably. Energy is the capacity to do work, complete an action, or make a change occur. Also, it is transferable from one object to another. Power is the rate at which the work is done, or the energy transferred. Electricity is the flow of electrical power or charge, which we get from the conversion of other sources of energy. For instance, light bulbs convert electrical energy to radiant energy in the form of light. When discussing energy, people typically think of electricity only, but in this module, we will be discussing energy as a whole. Today, approximately 80% of the world's energy is produced by burning fossil fuels, and the remaining 20% comes from renewable energy sources. We will learn about the existing energy system, discussing the imperative global transition from fossil fuels to renewable energy. 
What are fossil fuels and why are they an unsustainable energy source? 
Fossil fuels include coal, natural gas, and oil. They are considered non-renewable energy because they were created millions of years ago, as the remains of organisms decayed under huge amounts of pressure and heat. The National Geographic article linked below has more information on each type of fossil fuel. At every point in the fossil fuel life cycle, serious and long-term negative impacts on public health, local communities and ecosystems, and the global climate are evident. Read "The Hidden Costs of Fossil Fuels" for a comprehensive overview of the human and environmental footprint of fossil fuels, from extraction to disposal.
READ:
What are the sources of renewable energy?
Fossil fuels are harmful to the environment and will eventually run out, which is why renewable energy is growing more prevalent. Renewable energy, also known as clean energy, is produced using natural resources that are theoretically inexhaustible within a human timescale. Currently, humans use the following five sources of clean energy.
Water
There are two forms of energy created using water: hydro and tidal. Centuries of honing hydropower production techniques and infrastructure has made it the most commonly used type of renewable energy in the world. Hydropower is generated using a diversion structure to alter the natural flow of a body of water and convert the water's kinetic energy into electricity. Watch "Hydropower 101" to learn the pros and cons of the different ways that hydropower is used to generate energy. 
Tidal power is like hydroelectric power, as it uses the energy in moving water to produce electricity. The swell of ocean waters during the rise and fall of tides creates tidal energy. As an energy source, tidal power production is still in its infancy. Read this National Geographic article to learn the three techniques used to capture tidal energy and the obstacles facing its continued development. Both energy sources discussed rely on the eternally recharging system of the water cycle to produce electricity, using a fuel—water—that is not reduced or destroyed in the process.
WATCH: Hydropower 101 | Student Energy
READ: Tidal Energy | National Geographic
Sunlight
More than 3 million individual solar installations in the United States, ranging from small home rooftop systems to large utility-scale systems, add hundreds of megawatts of clean electricity to the power grid. The energy is harvested and used in homes, schools, businesses, and hospitals. Solar technologies capture the radiation emitted by the sun and convert it into electrical energy using photovoltaic panels or mirrors that concentrate solar radiation.
When the sun shines onto a solar panel, the energy from the sunlight is absorbed by the panel. This energy creates electrical charges, producing electricity. Another way to harness solar power is called concentrated solar power, which uses mirrors. Watch this video created by SciToons to learn how mirrors are used to capture solar energy and discover more about the basics of solar energy production.
Over the last decade, the solar market in the United States has grown at an average rate of 42% each year. Solar energy is a flexible energy technology: it can be located at or near the point of use or be built as a central-station power plant. Read the article from Forbes to learn about the pros and cons of this renewable energy source.
READ: Solar Energy Pros And Cons | Forbes Advisor
WATCH: What Is Solar Energy? | SciToons
Wind
Wind energy is the process by which the wind is used to generate mechanical power or electricity. Wind turbines convert the wind's kinetic energy into mechanical power. It is converted into electricity by a generator or used for specific tasks, such as grinding grain or pumping water. Most wind turbines are either horizontal-axis or vertical-axis. Watch this video from the National Renewable Energy Laboratory (NREL) that describes how wind turbines generate electricity from the wind. 
Wind energy offers advantages but also challenges. Read this article from the United States Department of Energy to learn more. According to the Global Wind Energy Council (GWEC), the global wind power market has nearly quadrupled in size over the past decade and established itself as one of the most cost-competitive and resilient power sources worldwide. In 2020, a surge of installations in the world's two largest wind power markets, China, and the United States, drove record growth. Together, they installed nearly 75% of the new installations in 2020 and account for over half of the world's total wind power capacity. Today, there is 743 gigawatts (GW) of wind power capacity worldwide, helping to avoid over 1.1 billion tons of CO2 globally. According to data recently published by the U.S. Energy Information Administration (EIA), the United States set a record in 2020 by increasing annual wind turbine capacity by 14.2 GW. After this addition, the total wind turbine capacity in the United States is now 118 GW. Read this article from CNBC to learn more about wind energy growth in the United States.
WATCH: Wind Energy Basics | NREL
READ:
Biomass
Biomass, or energy derived from the organic matter of plants and animals, is one of the earliest forms of renewable energy adopted by humans. It can be used for fuel, power production, and to create products that are typically made from fossil fuels. Materials like wood, animal waste, and algae are all biomass energy sources. Review the U.S. Department of Energy's webpage for additional sources, including their origins and benefits. The National Renewable Energy Laboratory (NREL) describes how these sources are converted to usable energy in their video. Like all renewable energy sources, biomass has pros and cons. Burning biomass releases about the same amount of carbon dioxide as burning fossil fuels.  However, decomposing matter always releases carbon dioxide, whether it is used to produce energy or not. On the other hand, fossil fuels release carbon dioxide that has been sequestered for millions of years - an essentially "new" greenhouse gas. Read "Various Pros and Cons of Biomass Energy" to explore the other upsides and downsides of the controversial renewable energy source.  
READ:
WATCH: Biomass Energy Basics | NREL
Heat
The earth's inner core temperature is 10,800 degrees Fahrenheit (°F). The mantle ranges from 392°F at the upper boundary of the earth's crust to approximately 7,230°F at the mantle-core boundary. Using the reservoirs of hot water that exist at varying temperatures and depths below the earth's surface, these high temperatures can produce enormous energy and several gigawatts (GW) of electricity. Wells, a mile or deeper, are drilled into underground reservoirs, tapping steam, and boiling water and bringing it to the surface for use in a variety of applications. As heat is continuously produced inside the earth, geothermal energy is renewable.
Like all renewable energy sources, geothermal energy has advantages and disadvantages. It is a reliable energy source, as power plants have a consistent power output no matter the time of day or season. However, geothermal power plants can only be built in specific locations, frequently far from urban areas. The initial costs of geothermal infrastructure construction are significantly more expensive than other renewable sources. The power plants have a long lifespan and a small land footprint comparatively. Geothermal energy can be harnessed at both small and large-scale installations. However, the construction of the power plant can alter the land structure underground resulting in earthquakes.
The most active geothermal resources are usually found along major tectonic plate boundaries alongside volcanoes. One of the most active areas is the Ring of Fire, which encircles the Pacific Ocean. In the United States, most geothermal reservoirs are in the West and Hawaii, with California generating the most electricity from geothermal energy. Watch this video from the U.S. Department of Energy or read this article from National Geographic to learn more about geothermal energy.
WATCH: Geothermal Energy | U.S. Department of Energy
READ: Geothermal Energy | National Geographic
How is nuclear energy produced and is it a renewable energy source?
Modern nuclear energy is produced using fission, a process through which atoms are split apart; the resulting energy can be used to generate electricity. Watch this video by Kurzgesagt – In a Nutshell for a brief history of nuclear energy development and a more detailed explanation of fission. Nuclear power plants use uranium atoms for fuel because it is a common metal found in rocks worldwide. A certain kind of uranium, known as U-235, is preferred because its atoms split apart easily; however, it is relatively rare. While nuclear power is technically non-renewable, it is considered one of the best sources of large-scale, low-emission power production available.
Today, approximately 10% of the world's electricity is generated using nuclear power reactors. In 2020, thirteen countries produced at least one-quarter of their electricity using nuclear power. The World Nuclear Association's article linked below further explores nuclear power use in the world today. Despite relatively widespread use, nuclear energy is one of the most controversial forms of energy. Some people consider it a safe and sustainable power source, and others do not. Many people associate nuclear energy with nuclear bombs and disasters like Fukushima and Chernobyl, asserting that the risks are not worth the reward. Read the article by Conserve Energy Future to explore the other pros and cons of nuclear energy, from carbon neutrality to nuclear waste. 
WATCH: Nuclear Energy Explained: How does it work? | Kurzgesagt – In a Nutshell
READ:
How can hydrogen be used as fuel?
Hydrogen is the lightest and the most abundant element in the universe. However, it can only be found in combination with other elements on Earth. Hydrogen combined with oxygen is water, while hydrogen and carbon are hydrocarbons (found in natural gas, coal, and petroleum). The process of separation to extract hydrogen requires energy. Today, hydrogen fuel can be produced through several methods. The most common are electrolysis (a process through which water is separated into oxygen and hydrogen) and natural gas reforming (a high-temperature process in which steam reacts with a hydrocarbon fuel). Other methods include solar-driven processes and biological processes. Some of these extraction types are considered green, while others are not. Hydrogen has the potential to provide clean power for manufacturing, transportation, and electricity generation applications such as cars, houses, and portable power. Read these articles from CNN and the Columbia Climate School to learn more about green hydrogen and the advantages and challenges of its use as a fuel. 
READ:
Which form of energy production is considered the best option for the future?
Though renewable energy sources are widely considered preferable to fossil fuels, each has significant downsides. From the storage limitations of solar energy to the environmental degradation caused to local ecosystems by hydropower infrastructure, the shortcomings in existing renewable energy sources provoked continued exploration. In the early 1900s, scientists discovered that the light and heat produced by the sun are created through the fusion of hydrogen into helium, a process that releases energy. On earth, researchers duplicated the reaction using widely available chemical inputs. The Financial Times article below illustrates the progression of nuclear fusion development, the research funding sources, breakthroughs, and advances in technology over time. All spurred by the belief that fusion energy represents an inexhaustible, clean, safe, and affordable energy source that will power human infrastructure in the future. You may be wondering why fusion isn't our primary energy source if it is so extraordinary. Seeker's video explains the fusion process in detail, discussing the factors that make it a promising energy source and exploring the hindrances to modern-day, large-scale use.
WATCH: How Close Are We to Fusion Energy? | Seeker
READ: Nuclear fusion: The race to harness the power of the sun just sped up |  Financial Times
Why is energy storage important?
While there are several types of energy storage, including thermal energy and batteries, most conversations focus on electricity storage. The electricity grid is a complex system where the power supply must always meet consumer demand. Historically, supply has been adjusted to meet changes in demand, straining the grid and causing spikes in electricity costs during times of high need. Increased energy storage usage can improve the electrical grid's stability and ensure uninterrupted power for consumers by providing backup power during disruptions and avoiding pricing spikes. Energy storage also enables the switch to renewable energy. Sources like solar and wind have variable outputs, only producing energy when the sun is shining, or the wind is blowing. By capturing energy during periods of excess generation and discharging it when demand increases, less energy is wasted, and renewable energy use can be maximized within the grid. Read The Union of Concerned Scientists' article for more information about energy storage and renewables.
READ: Energy Storage | The Union of Concerned Scientists
What is the status of renewable energy globally?
The United States ranks in the top ten countries for energy use per capita. According to the U.S. Energy Information Administration (EIA), while the United States is 4% share of the world's population, the country consumed 17% of the total energy used globally in 2018. In the same year, per Our World in Data, renewable energy sources accounted for approximately 7% of all energy used in the United States. Let us look at the renewable energy landscape and performance in other countries. 
A country's natural resources play a significant role in its ability to transition to renewable energy. While Iceland taps heat from the volcanoes and Brazil has enormous hydroelectric energy potential, arid regions like Saudi Arabia must rely on oil. Other factors that influence the adoption of renewable energy include levels of political support and regime stability, affordability of renewable technology, and the socio-economic situation in the country. 
Our World in Data produced an interactive chart showing the share of primary energy consumption from renewable technologies per country in 2019. If you click on each country, you will see that some, like Norway, Brazil, and New Zealand, far exceed the U.S. in renewable energy use. For a comparative picture of energy versus electricity from renewable sources, browse the 2021 Global Energy Statistical Yearbook's map showing the share of renewables used in electricity production by country. 
For more information about the world's political and technological progress toward the adoption of renewable energy, browse REN21's 2021 Global Status Report. As the only global renewable energy community, REN21 provides recent and peer-reviewed facts, figures, and global renewable energy development analyses. 
BROWSE:
How does renewable energy intersect with environmental justice?
Suppose you reviewed the Renewable 2021 Global Status report. In that case, you know that many countries are making significant strides towards transitioning to clean energy. You may have noticed that most of those countries are considered developed nations. Their advanced energy infrastructure and surplus of readily available funds make the transition feasible. Conversely, the emissions from developing countries are expected to rise significantly in the coming decades as their populations escape poverty. However, the world has little chance of preventing catastrophic climate change without all nations on board.
Industrial era emissions mainly originated from the developed world, while undeveloped countries bear the brunt of climate change. During recent global climate summits, the leaders of poorer countries presented those from the world's wealthiest countries with bills totaling hundreds of billions of dollars. The money would fund their protection from the ravages of climate change and their transition to clean energy. By implication, the money is owed. Developed countries have burned fossil fuels unchecked for nearly two centuries yet expect undeveloped nations to raise their living standards without doing the same. To learn more, read the following article by the Wall Street Journal. 
READ: To Strike a Climate Deal, Poor Nations Say They Need Trillions | Wall Street Journal  
Why is energy efficiency important?
The popular media proclaims that switching to renewable, clean energy sources is the key to a brighter future, unmarred by pollution, emissions, and the other downsides of fossil fuels. However, as reported by CNBC, the reality is that "the increase in renewable energy is still lower than the increase in global energy demand overall." It follows that using less energy to perform the same task is the cheapest and quickest route to reducing fossil fuels, and historically, this has proven true. Between 1990 and 2016, energy efficiency programs in California saved 66 Terawatt-hours (TWh) of annual electricity use, whereas renewables provided an additional 30 TWh of electricity annually. Though renewable energy is trendier, energy efficiency options for typical homes are more abundant, applicable to a broader range of situations, and more affordable than purchasing renewable options. Read the Environmental Energy & Study Institute's article for a basic overview of energy efficiency and Medium's article to learn why it is as consequential, if not more so, as renewable energy.
READ:
What is the state of U.S. energy infrastructure?
We rely on the U.S. energy infrastructure to supply electricity across our country, and while some improvements have been made, there are still several problems with the current state of our system. The American Society of Civil Engineers (ASCE) released their 2021 report card on America's infrastructure, giving the nation a C- in energy, stating, "in the coming years, additional transmission and distribution infrastructure, smart planning, and improved reliability are needed to accommodate the changing energy landscape, as delivery becomes distributed and renewables grow." Renewable sources currently make up about 17.5% of energy production in the U.S. In comparison, natural gas comprises the largest portion at 38.4%, followed by coal at 23.5%. The three main components of the electrical grid (generation, transmission, and distribution) experience an investment gap, which will likely increase as weather exacerbated by climate change continues to threaten the system's resiliency. The federal government recently passed the 2021 Infrastructure Investment and Jobs Act, which among other things, will see the "single largest investment in clean energy transmission in American history" to encourage better resilience and innovation moving forward. Take a look at the ASCE report card to learn more about the current state of energy infrastructure, and explore the White House fact sheet for details of the new law.
READ:
How is renewable and efficient energy use incentivized in the U.S.?
According to the U.S. Energy Information Administration (EIA), "federal, state, and local governments and electric utilities encourage investing in and using renewable energy and, in some cases, require it." Read the linked page on EIA's website, which briefly describes different clean energy incentive structures and mandates in place in the United States. The federal government provides financial incentives like tax credits, loan programs, and grants for renewable energy projects and technologies. Similarly, states use financial incentives which are tracked in the State Incentives for Renewables & Efficiency Database. To learn about other policies used by state governments to support green energy use, as well as those employed by the Environmental Protection Agency (EPA), peruse their web page. 
Outside of the governmental purview, green energy incentive programs often create sustainability achievement and leadership symbols, rewarding clean energy use through awards and certifications. For example, LEED (Leadership in Energy and Environmental Design) is the most widely used green building rating system globally. Buildings earn points for a variety of sustainability related targets, including renewable energy usage, which are totaled to achieve a rating. LEED certified buildings reap a range of environmental and economic benefits, which you can read about in "Understanding the LEED Certification Basics." 
READ:
BROWSE: Database of State Incentives for Renewables & Efficiency
What is the California government doing in terms of clean energy? 
California is leading the country towards a 100 percent clean energy future. The Senate Bill 100 (SB 100) - officially titled "The 100 Percent Clean Energy Act 2018"- established a landmark policy requiring renewable energy and zero-carbon resources to supply 100 percent of electric retail sales to end-use customers by 2045. It also updated the state's Renewables Portfolio Standard to ensure that by 2030 at least 60 percent of California's electricity is renewable. It requires the California Energy Commission (CEC), Public Utilities Commission, and Air Resources Board to use programs under existing laws to achieve 100 percent clean electricity and issue a joint policy report on SB 100 every four years following the initial 2021 report. If you want to learn more about this report and read its details, visit the CEC website. California uses a wide range of renewable energy resources like solar and wind energy, hydroelectric power, biomass, and geothermal energy. It is expected that the increase in clean energy resources will help reduce the risk of blackouts, which have become more frequent in recent years. Read the Los Angeles Times and NPR articles to learn more about the 100 percent goal and some concerns about how it will be achieved. 
BROWSE: 2021 SB 100 Report | California Energy Commission
READ:
How is the University of California using renewable and efficient energy?
In 2013, the University of California (UC) announced the Climate Neutrality Initiative, committing to emitting net zero greenhouse gasses from its buildings and vehicle fleet by 2025. The Global Climate Leadership Council and Carbon Neutrality Initiative Student Fellowship Program were formed to further this ambitious goal. The first, to seek out the best route towards 100% clean energy while advancing climate change research and education; the second, to fund student-generated carbon neutrality projects. Peruse the Carbon Neutrality page on the UC website for progress reports and more. Seven years after the initiative was announced, the University of California (UC) was named in the top 30 colleges and universities for renewable energy use by the EPA. Nearly 50% of UC's electricity comes from green power sources, with its own carbon-neutral power company providing one-third of all energy obtained on campus. Browse UC's Energy and Sustainability page for more information about the green energy goals and initiatives putting UC on track to acquire 100% clean energy by 2025. 
BROWSE:
How is UC San Diego implementing clean and efficient energy?
The University of California San Diego (UC San Diego) has founded organizations, implemented requirements, and created systems to reduce their environmental footprint and further the goal of carbon neutrality by 2025. The campus is home to the Center for Energy Research (CER), a unit established to create solutions for the growing challenges of energy supply, distribution, and use. Visit their page to explore research projects delving into energy storage, renewable energy, fusion, and more. The university has committed to ambitious renewable energy requirements for all new buildings and renovation. Each project strives to achieve a minimum Silver rating under the LEED Green Building Rating System and is expected to outperform the energy requirements of the California Building Code (title 24) by 20% or more. Take a look at the Green Building page to skim the list of successful projects and learn more about the program. 
More broadly, the campus microgrid provides a flexible, resilient, dependable, and secure energy distribution system. Capable of generating around 85% of the campus' annual electricity, it is one of the world's most advanced microgrids. The power is provided by several energy-efficient sources, including the campus' 30-megawatt cogeneration plant, a 2.8-megawatt renewable energy fuel cell, and 2.4 megawatts of energy generated by solar arrays. Visit the Clean Energy page on the UC San Diego website for more actions undertaken to reduce campus energy use and emission generation. From there, navigate to the homepage of the UC San Diego Sustainability department (or follow the link below) and discover the programs used to engage staff and students in small-scale energy efficiency improvements, like Green your Lab and Green your Residence.
BROWSE:
As an individual, how can you reduce your energy use and/or switch to clean energy?
Throughout this module, we have discussed how countries, states, and universities are reducing their energy consumption and moving toward clean, renewable power sources. Systemic changes are vital to combating climate change, but the importance of individual lifestyle changes cannot be overstated. According to the Department of Energy, at least 50% of customers in the United States have the option to purchase renewable electricity from their power supplier, and everyone can participate in clean power purchasing programs. Read the U.S. Department of Energy's webpage on buying clean electricity to learn the different ways that you can purchase green power.
Adopting energy-saving techniques in your daily life saves money and protects the environment. The Green Residence Program at UC San Diego aims to increase sustainability awareness and provide green tips to reduce resource consumption at home. Visit the webpage to complete the Green Residence Self-Assessment and find suggestions on how to reduce your energy use and environmental footprint. For additional tips, review Drexel University's Academy of Natural Science's list of 40 ways to reduce energy use. Behavioral changes are not the only option, as home improvements can significantly optimize energy use. EnergySage, a company working "to make solar and other renewable energy options affordable and accessible to all Americans," includes remodeling suggestions.
READ:
Textiles have been part of human culture for thousands of years. At more than 34,000 years old, the oldest evidence of human textile use was discovered in the Republic of Georgia. The term textile encompasses a fiber, filament or yarn used in making cloth, as well as the cloth itself. Historically, they were produced by laboriously weaving plant-based threads together. Modern textile manufacturing methods would be unrecognizable to early humans; new clothing and other textiles are mass-produced continuously, only to be discarded in a landfill soon after their creation. More than 60% of clothes are polyester, a fossil fuel-based material. The rate and scale of textile manufacturing today have severe consequences. This module will examine the fashion industry's immense environmental impact and explore potential solutions. We are primarily discussing textiles in the form of clothing, but you can apply what you learn to other textiles, such as sheets, drapes and upholstery.
What is fast fashion?
According to The Good Trade, "fast fashion is a design, manufacturing, and marketing method focused on rapidly producing high volumes of clothing." A century ago, fashion houses released new styles two to four times a year during prescribed seasons. Today, there are up to 52 "micro seasons" a year, with a new collection released each week. Consequently, fast fashion has become intertwined with many aspects of day-to-day life in the United States. T-shirts made to be worn a few times are created continually, distributed at races or athletic events, given to employees at corporate events or worn by bridal parties for a weekend of fun. Buying a new outfit for each wedding or event attended is a mainstream practice. However, there are consequences to producing cheap, ever-changing styles for the masses. Garment manufacturers are using more low-quality materials, as well as ethically questionable and environmentally damaging production techniques. For a two-minute overview of fast fashion and its consequences, watch Minute MBA's video. For a more detailed perspective, including the history of fast fashion, read The Good Trade's article.
READ: What Is Fast Fashion, Anyway? | The Good Trade
WATCH: The Business of Fast Fashion | Minute MBA
What is the environmental impact of textile production?
As one of the largest global polluters, the fashion industry is responsible for significant environmental harm. According to the United Nations, the industry uses approximately 93 billion cubic meters of water annually (equivalent to the needs of five million people), discharges half a million tons of microfibers into the ocean every year (equivalent to 3 million barrels of oil) and is responsible for more carbon emissions than all international flights and maritime shipping combined. Fashion manufacturers export production overseas to avoid the high minimum wage requirements and environmental regulations implemented by developed governments. As a result, the chemicals used in the production and dyeing of fabrics are not disposed of properly, causing significant harm to local ecosystems. Garment factory workers are not paid fair wages and suffer under unethical working conditions.
An enormous volume of resources, including water, raw materials, land and energy, is needed to convert fibers into textiles during the manufacturing process. As the fashion industry grows, the resources consumed and the environmental damage inflicted increase exponentially. Clothing production has doubled in the last two decades; the production of synthetic textiles accelerates as the demand for cheap clothes continues to rise. In turn, the number of fabrics that end up burned or discarded in landfills is also growing. According to the Environmental Protection Agency (EPA), people in the United States produce an average of 75 pounds of textile waste each year. The Ellen MacArthur Foundation estimates roughly $500 billion is lost each year when clothing is thrown out instead of reused or recycled. It is crucial to ensure that clothes are produced as ethically and sustainably as possible to minimize waste and preserve the earth. Watch the video from the Economist or read the article by Earth.com to learn more about the environmental cost of the fast fashion trend. 
WATCH: The True Cost of Fast Fashion | The Economist
READ: Fast Fashions Detrimental Effect on the Environment | Earth.com
What is textile recycling and why is it important?
You have probably given used towels and sheets to the animal shelter and dropped unwanted clothing at Goodwill or sold it on sites like Poshmark. Many people donate or sell used apparel and fabrics. These well-intentioned consumers do not realize that there is insufficient global demand for donations; textiles which are too worn or damaged to be reused are discarded. They mix with unwanted donations in landfills, which receive ten million tons of textile waste annually. In response to growing public awareness and condemnation of this situation, a green solution to textile waste has reemerged; recycling. The collection and breakdown of textiles and the reuse of their fibers have been practiced for over a hundred years. With the rise of fast fashion and consumerism, the sheer quantity of fabrics in the world has exploded; the conservation of resources and waste reduction through textile recycling is more crucial than ever.
The town of Prato, Italy processes 15% of the world's recycled clothes. Watch the video by BBC News to learn how their culture of thriftiness and collaboration lends itself to a methodology that could benefit the world. Prato is the exception to the rule; globally, though many organizations have launched clothing collection schemes, the percentage of items actually turned into new things is comparably low. Read The Good Trade's article to learn how textile recycling works and examine the barriers to successful, widespread textile recycling. 
READ: How Does Textile Recycling Work? | The Good Trade
WATCH: Recycling fashion: The town turning waste into clothes | BBC News
Why is donating used clothing an ineffective solution to clothing waste?
According to U.S. News, the United States exported nearly 1.6 billion pounds of secondhand clothing in 2018. While well-meaning people believe that their castoffs are given to the impoverished or resold domestically to support charitable causes, most donated clothes in the U.S. are sold for a profit to secondhand markets in developing countries. The prices are low enough to undermine domestic textile industries and put local artisans out of business. As the quality of clothing decreases, fewer items sent overseas can be resold. They are discarded, clogging landfills and polluting the environment abroad.
Offloading the consequences of fast fashion on developing nations is so lucrative that the United States leveraged its global influence to ensure that it will continue. As reported by U.S. News, when some African governments sought to phase out used clothing imports, the Office of the United States Trade Representative threatened to remove them from a preferential trade deal intended to promote economic growth. Read the article to learn more about the dark side of the donated clothing industry.
READ: How Fast Fashion Dumps Into the Global South | U.S. News
Why is water a critical issue for the fashion industry?
The fashion industry is a major water consumer, relying on water throughout the garment production process. From the irrigation of cotton crops at the beginning of the supply chain to the washing of clothes at the end of it, the industry consumes about half as much water as Americans drink annually. A massive amount of freshwater is used for the dyeing and finishing process of all our clothes. The natural fiber most commonly used in the production of clothing is cotton and it needs a lot of water to grow: around 20,000 liters (5,000 gallons) of water to produce 1 kilogram (2.2 pounds) of cotton. This means that to produce a pair of jeans, more than 7,200 liters (1,800 gallons) of water are needed and another 2,700 liters (700 gallons) of water to produce one shirt.
Cotton farming is also responsible for another problem: water contamination. This fiber is one of the most pesticide-intensive crops in the world and the use of fertilizers for cotton production heavily pollutes water runoff. Read the article from Common Objective to learn more about water usage in the fashion industry. As consumers, we can be more conscious about these problems. Read Vogue's article to learn different ways to reduce your water footprint when you buy clothes.
READ:
How does your laundry contribute to the ocean plastic pollution problem?
Each time you wash synthetic clothes (like nylon, acrylic and polyester), millions of microfibers are released. Unlike wool or cotton, these synthetic particles do not biodegrade and although water treatment plants catch some of them, the rest eventually flow into rivers, waterways and oceans. Microplastics (up to 5 millimeters in diameter) represent almost a fifth of the 8 million tons of plastics that end up in the oceans each year. The most common microplastics are microfibers from synthetic clothing.
The textile industry produces more than 40 million tons of synthetic fabrics a year. Because the many benefits—like durability, resistance and affordability—are so popular, the environmental impact of synthetic clothing production and disposal is high. According to the International Union for Conservation of Nature (IUCN), synthetic textiles are a primary source of ocean microplastics pollution. Scientists have discovered that tiny aquatic organisms ingest those microfibers and suffer an immediate impact on feeding behaviors, reproduction and larval development. The microorganisms are then eaten by small fish, which are later eaten by bigger fish, affecting the health of the entire marine ecosystem and introducing plastics to the human food chain. Read the articles from One Green Planet and the New York Times to learn more.
READ:
What is the relationship between the fashion industry and sustainability?
There has been an urgent push for the fashion industry to become more sustainable in recent years. Companies have started looking at ways to reduce the environmental impact of their production, recycle raw materials and innovate using more sustainable raw materials, like wood and fruit. New business models enabling the resale, rental, reuse, and repair of clothing to reduce waste and energy consumption have been marketed as environmental cure-alls. Read the BBC's article to learn how companies are innovating to reduce the environmental impact of fashion.
However, change is complicated in a sector where production has doubled in the last 20 years fueled by customers' desire for a constant stream of new, low-cost, on-trend items exacerbating the problem. Despite companies' efforts to incorporate more environmentally friendly practices and materials, the Harvard Business Review's article argues that the fast fashion business model and sustainability are incompatible. The quick turnover of styles carries with it an extremely energy-intensive production and the complexity and lack of transparency in supply chains make the actual environmental impact untraceable and immeasurable. Ultimately, even 'sustainable' fashion producers are still harming the environment. Read the article to learn more and explore potential legislative solutions.
After more than 20 years of individual and corporate efforts toward sustainability, the fashion industry's environmental impact has only increased. In response, groups like the United Nations Alliance for Sustainable Fashion are working on a systemic level to "achieve outreach and advocacy with a unified United Nations voice, targeting the private sector, governments, non-governmental organizations, and other relevant stakeholders." Visit their website to learn about their sustainable development goals and promote coordinated action in the fashion sector.
READ:
BROWSE: The UN Alliance for Sustainable Fashion
What are companies doing to combat fast fashion trends?
To combat fast fashion, companies are producing "slow fashion," making long-lasting, sustainably-made clothing. Companies fighting fast fashion often are fair trade certified; they provide safe working conditions, a sustainable livelihood, environmental protection practices and community development funds. Another certification that demonstrates a corporation's dedication to sustainability is B corporation. When a company is B corporation certified, it "meets high standards of social and environmental performance, transparency and accountability." This means that their operations are built around quality working conditions, adding value to customers' lives, reducing their environmental footprint and contributing to economic and social development in their communities. To learn about company-specific initiatives, browse The Good Trade's article highlighting the clothing brands betting against fast fashion.
There will always be a demand for clothing and some companies are meeting this pressure by introducing alternatives to new clothes. Second-hand clothing companies are increasing in popularity, reducing the number of consumers who support fast fashion trends and extending the lifespan of clothing. Other companies rent clothing, addressing consumers' desire to purchase new fashion trends or items they plan to wear only once. Watch From Retail to Resale: The Trend Disrupting Fashion to discover more alternatives to buying fast fashion. 
WATCH: From Retail to Resale: The Trend Disrupting Fashion | The Guardian
READ: 35 Ethical and Sustainable Clothing Brands Betting Against Fast Fashion | The Good Trade 
Which types of fabric are better and worse for the planet?
While the general rule of thumb—that natural fibers are more sustainable than synthetics—holds true, there is still a sustainability hierarchy within natural fibers. Cotton, for example, is very widespread in the fashion and textile industries, but it is one of the thirstiest industrial crops, needing about ten gallons of water for each plant alone. A much more sustainable option is recycled cotton, as the consumer gets the same fiber without requiring the growth of a new plant. The same concept holds true with synthetic fibers: looking for recycled polyester, nylon, etc., prevents you from supporting the resource-intensive production of new bolts of those fabrics. According to Good On You, linen fares much better in the natural hierarchy; the entirety of its source plant, flax, is used to produce products, and it requires very little water to grow. A fiber that requires even less water than linen to grow is hemp; marijuana's "sober cousin" is very versatile, being used for everything from food to building materials to, of course, clothing. Eco-Stylist gives a full rundown of the most and least sustainable fabrics.
READ:
How can individuals combat fast fashion?
The first step toward moving away from fast fashion and developing a sustainable fashion industry is changing our collective mindset. Over the past few decades, people have been led to believe that clothing should be cheap, that used clothing is unappealing and that ever-changing trends must be followed. Though this evolution was intentionally engineered by companies seeking profit, most of us are directly responsible for contributing to the resulting cycles of consumption and waste. To reverse the trend, consumers must buy fewer items, consider secondhand options and value more expensive, durable items manufactured sustainably. The resulting reduction in demand for cheap apparel and support of sustainable clothing creators will eventually drive the fast fashion trend into obscurity. Amy Hall, a woman at the forefront of the sustainable fashion movement, discusses the rise of slow fashion on Grow Ensemble's The Social Entrepreneurship & Innovation Podcast. Listen to it or read the article to learn how to avoid fast fashion and develop a new relationship with your clothes.
READ: How to Avoid Fast Fashion | Grow Ensemble
LISTEN: How to Avoid Fast Fashion | The Social Entrepreneurship & Innovation Podcast
How can we address fast fashion at UC San Diego?
UC San Diego can work as a campus community to purchase and use textiles sustainably. When planning a campus event, ask around to determine whether supplies are already available before purchasing new items like tablecloths, napkins, shirts, towels, etc. Ask your college's student council, Associated Students or email sustain@ucsd.edu to ask about extra supplies to use/rent. Additionally, be conscious when selecting event swag.
Encourage reuse of event or organization-specific clothing rather than generating a new design annually. Learn about how to source custom T-shirts more sustainably from the article below. Consider refusing free clothing and other textiles offered at events, such as orientations or rush that you will not wear or do not need. If you do accumulate unwanted garments, donate them to local thrift vendors. Follow @sustainucsd and @iscucsd to get updates about campus events, such as clothing swaps, vintage sales or upcycling competitions. Learn more about what UC San Diego Sustainability recommends by visiting the Green Residence Program webpage.
READ: Organic & Sustainable Custom T-Shirt Printing Companies | IndieGetup
BROWSE: Green Residence Program | UC San Diego Sustainability 
More Information
For more information, contact greenyourclassroom@ucsd.edu.