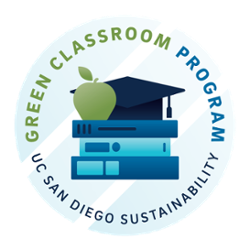 Green Classroom Program
Sustainability is a broad term that relates to many different topics. Green Classroom aims to help educate the campus community about sustainability issues and how they relate to UC San Diego specifically. UC San Diego educators can implement sustainable practices through the Green Classroom Certification program to operate more efficiently, save resources, help reduce UC San Diego's environmental impact and provide a positive example to students in the classroom.
Certification
The Green Classroom Certification (GCC) program helps campus educators, including university professors, childcare center teachers and Preuss School teachers, to promote resource conservation and receive recognition for their leadership in sustainability. The program team works with educators and their department to identify opportunities to implement or improve existing sustainable practices and earn points toward certification.
The Green Classroom Certification program strives to:
Help UC San Diego meet its Climate Action Plan goals related to energy efficiency, waste diversion and alternative transportation
Address opportunities for resource consumption savings in campus classrooms by providing a simple and efficient green certification process
Assist educators in reducing their resource use and in becoming a model for their students to notice and emulate
Increase sustainability education and awareness and promote conservation throughout the campus community
Create opportunities for students to gain experience and knowledge through their involvement with sustainability projects
Ensure that UC San Diego remains a world leader in sustainability through certifying, recognizing and awarding green practices and efforts within the campus community
Any UC San Diego educator who teaches in a university classroom, including at Early Care & Education centers and The Preuss School, can be certified.
The certification process is free!
Certified educators and their departments receive recognition for their sustainable efforts, accomplishments and innovations.
Departments with certified educators can display their commitment to modeling sustainability for their students.
Certified educators and departments help UC San Diego reach its Climate Action Plan goals, remain a leader in sustainable practices, reduce natural resource consumption and decrease our environmental impact.
The Green Classroom Certification process involves these steps.
An educator expresses interest in certification by completing the information card.
The certification team reviews the application and sends the educator the Green Classroom Survey to complete. The team reviews the completed survey and sends the Purchasing Survey to the individual that the educator indicated is responsible for making purchases on their behalf.
The certification team presents to the educator to provide:

A preliminary certification level by entering survey data into the GCC calculator
Gather feedback and make recommendations for adopting new sustainable practices that the educator can implement to increase their certification level.

The certification team awards the educator a recognition certificate. The team will add the individual to the list of certified educators below.
Certification lasts for two years. After the certification expires, an educator can apply for recertification.
Waste (recycling and waste reduction)
Energy (conservation and efficiency)
Paper and Printing (responsible printing and paper use)
Transportation (use of alternative transportation)
Participation (percentage of office staff involved)
Innovation (developing new sustainable practices)
| Certification Level | Points Earned |
| --- | --- |
| Platinum | 90+ |
| Gold | 80–89 |
| Silver | 70–79 |
| Bronze | 60–69 |
| Green | 50–59 |
Sustainability Learning Modules
Green Classroom offers Sustainability Learning Modules to educate campus community members about a variety of sustainability issues. These modules establish the broader context of topics, such as recycling, energy and water, and then narrow the focus to the UC San Diego campus.
More Information
For more information, contact greenyourclassroom@ucsd.edu.