Focus Areas
Sustainable Practices
The UC Sustainable Practices Policy guides sustainability efforts across the ten campuses and other university facilities in ten areas of sustainable practice: climate protection, clean energy, green building, transportation, sustainable operations, waste reduction and recycling, sustainable procurement, sustainable foodservice, sustainable water systems, and standards for UC Health.
UC San Diego Sustainability Highlights
Expanding Campus EV Charging Infrastructure
UC San Diego continues to leverage public funding to expand the campus electric vehicle charging infrastructure. At the end of 2020, our campus has 250 ports that serve commuters, general public and travelers. Over the past four years, UC San Diego has become San Diego County's largest multipurpose hub of EV charging plazas by delivering 2.5 GWH to more than 5,500 unique drivers.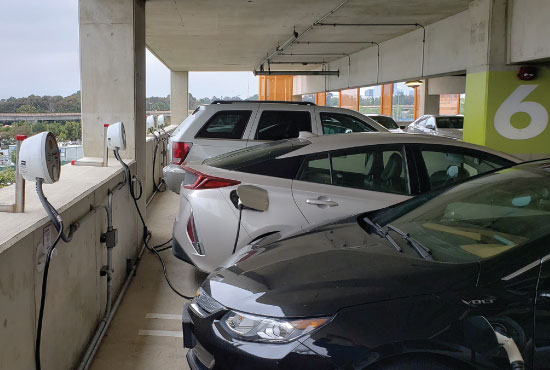 Waste Reduction and Recycling
Housing*Dining*Hospitality launched the Triton2Go Mobile Ordering App and Reusable Container Program, which replaced the use of 75,000 disposable containers during Fall Quarter 2020
Engagement and Sustainability
Our Sustainable Fleet
UC San Diego Fleet Services maintained a 70% or better sustainable vehicle fleet for the past three years and was recognized 15th greenest fleet by 100th Best Fleets Government Fleet Awards.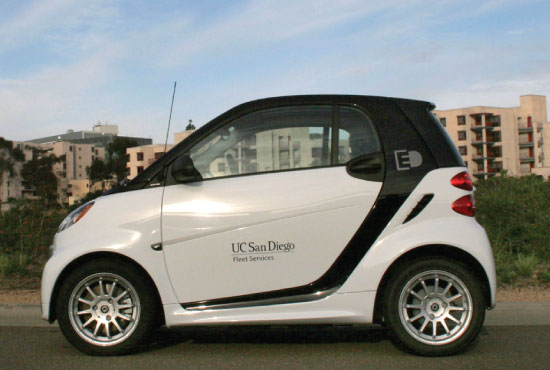 UC San Diego's Fifth LEED Platinum Project
North Torrey Pines Living and Learning Neighborhood residential areas opened Fall Quarter 2020 and the neighborhood is expected to become the fifth LEED Platinum project on campus. The project received a 10th Annual Sustainable Innovation Award from the USGBC LA Chapter.
Recovering and Harvesting Food
The Triton Food Pantry continued to recover food from local grocery stores and harvested produce from campus community gardens. The Student Sustainability Collective and Triton Food Pantry acted quickly to establish pick-up window service and arrange additional mobile food pantry locations so that students sheltering in place could have convenient access to nutritious food. During the 2019–2020 academic year, 4,979 students visited the Triton Food Pantry 19,753 times.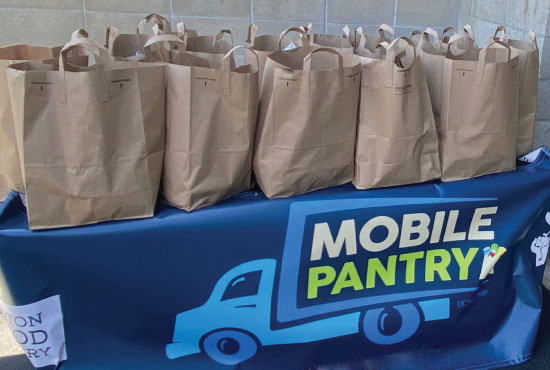 Water Conservation
The campus reduced total water consumption by approximately 110,000,000 gallons (17% reduction) compared to the previous year. Major reductions occurred in all areas, including housing (40% reduction), labs (20% reduction), offices (61% reduction), restaurants (45% reduction) and recreation facilities (40% reduction) in addition to a large reduction in industrial water used at our Central and East Campus Utility Plants (10% reduction).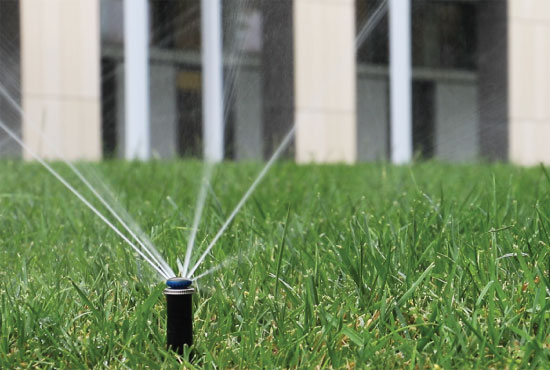 Carbon Neutral Last Mile Fleet
Integrated Procure-to-Pay Solutions' Logistics added two electric Mitsubishi Fuso trucks to its fleet as part of a plan to replace two carbon-emitting vehicles with electric distribution vehicles per year through 2023. When complete, Logistics will eliminate 60 tons of carbon output per year and have the first 100% carbon neutral last-mile delivery in higher education.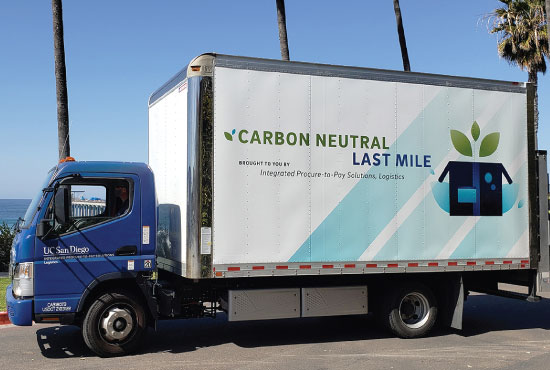 Sustainable Procurement
2021
2020
For the second year in a row, UC San Diego exceeded the minimum

 

25% green spend goal

 

in green cleaning supplies and office furniture. Office furniture green spend was over 90% in FY 2020.
Integrated Procure-to-Pay Solutions partnered with Hewlett-Packard in the

 

Printer Refresh Program

 

to replace campus printers that are nearing the end of their usable lifetime with energy efficient printers. Since 2010, the campus has replaced 73 printers for 55 departments, saving $60,239 in printer costs, $10,000+ in energy costs and reducing CO2

 

emissions by 58,210+ lbs.