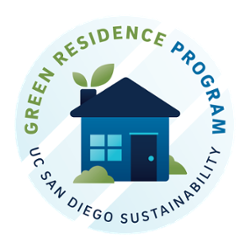 Green Residence Program
Learn how you can conserve resources and save money whether you're living on campus or working remotely from home.
Program Goals
The Green Residence Program strives to:
Increase sustainability education and awareness throughout the campus community
Provide information about how students, faculty and staff can implement best practices in their homes
Reduce resource consumption
Self-Assessment
The Green Residence Self-Assessment consists of several behaviors that allow you to evaluate your current practices and gives you a score upon completion. At the end of the assessment, you have an opportunity to share additional sustainable practices that were not included. 
Instructions: Complete this survey by choosing how often you engage in the actions (e.g.: 3 out of the 4 times I ordered food delivery this week, I refused utensils and napkins). We encourage you to research any questions you are unsure how to answer (e.g.: Is my Angel Soft toilet paper sustainable?).
Assessment Levels
After you complete the Green Residence Self-Assessment, you should receive an email with your score. The Assessment Levels below let you see where you rank. 
Thank you for completing the self-assessment and doing your part to conserve our planet's resources!
Conservation Champion (76–100%)
You are one with the planet and a true example to follow! Being green isn't as easy as you make it look. You understand the significant impact that individual actions have on the environment. Others look to you for guidance so share your insight and assistance whenever you can.
Planet Protector (51–75%)
You are doing a great job protecting the planet! You choose to be green and overcome sustainability challenges. You recognize that your actions can transform the world. We need more people like you to make a difference.
Environmental Enthusiast (26–50%)
Your enthusiasm for the environment is evident! You have taken steps to incorporate sustainable alternatives in your daily life. Seek out others who can lead you further in your journey. Align with the green forces because we are all in this together.
Sustainability Steward (</=25%)
You are actively making an effort to be more sustainable! Remember that the best way to protect the future is to protect the planet. Ask a friend to join you in taking those baby steps closer to living sustainably. Together you can understand, recognize, and incorporate better habits into your routines.
Tips
Explore the tips below to understand the environmental impacts of particular behaviors and to learn how you can implement more sustainable best practices into your daily routine.