Utilities & Sustainability
Vision
To create a sustainable campus for future generations.
Mission
To provide leadership, guidance and support to our various campus partner and stakeholders in identifying, developing and implementing actions that will ensure a more sustainable UC San Diego going forward. Achieving our collective sustainability goals will require participation from everyone on campus.
Energy Production and Conservation
UC San Diego is committed to producing clean energy and conserving energy in cooperation with statewide load-reduction initiatives and UC standards.
UC San Diego designed its primary electrical power system for reliability. A computerized Energy Management System connects all major campus buildings and centrally monitors and controls heating, ventilating and air conditioning systems based on occupancy. Precise programming reduces peak-time energy demand, maximizes conservation and allows for efficient room temperature management and long-term trending and comparative analysis. During extreme heat events, the campus may implement electrical load-shedding measures to conserve energy and support state and regional power systems.
Utilities Dashboards
Facilities Management developed dashboards that allow customers to view energy and water use in campus buildings.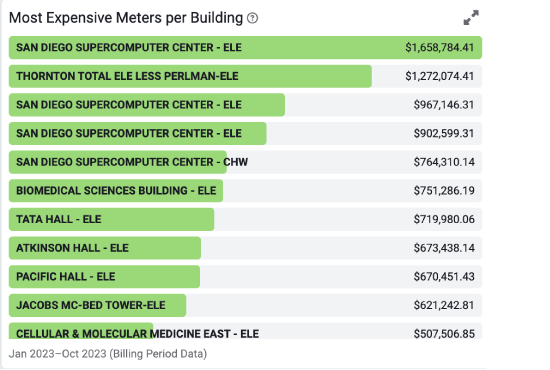 Take Action