Student Opportunities
If you're interested in advancing environmental, economic and social justice, then join our team of student stewards and fellows who work with Sustainability Office staff to promote UC San Diego and University of California sustainability goals and initiatives.
Volunteer Positions
UC San Diego Sustainability is seeking student volunteers to work at the Sustainability Resource Center. Volunteers will assist the Sustainability Program Coordinator and team of volunteers with promoting the campus sustainability goals, initiatives and projects, including the new Sustainability Ambassadors Program.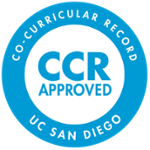 Sustainability Stewards will assist the Sustainability Program Coordinator with identifying the most effective marketing methods to reach UC San Diego students, staff and faculty. Volunteers will propose new resources as well as analyze current strategies. Duties include: Drafting posters, flyers and brochures; producing blog content; planning events; proposing and managing campaigns; gathering survey data; and coordinating sustainability tours.
UC San Diego Sustainability Volunteer Opportunities are CCR Approved!
CCR, or Co-Curricular Record, recognizes the work students do outside the classroom by recording the experience on an official document that accompanies the UC San Diego transcript. Students who volunteer for 30+ hours during the 2016-17 academic year with UC San Diego Sustainability are eligible for this program.  Learn more about CCR.
Positions available: 8-10
Location: Sustainability Resource Center.
Duration: 2016-17 academic year
Hours: 10-20 hours per week (flexible depending on class schedule)
Skills required:
Desire to work in sustainability
Interest in marketing, community engagement and public outreach
Ability to work independently and as part of a team
Positive attitude and resourceful nature
Knowledge of Microsoft Office programs
Graphic design experience preferred but not required
To apply: Send a letter of interest describing your qualifications and experience related to the position, and a current resume to: Jennifer Bowser, Sustainability Program Coordinator.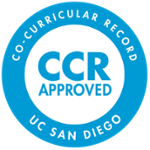 The Sustainability Ambassadors Program is a registered campus student organization sponsored by the UC San Diego Sustainability Office. Based on the Carbon Neutrality Initiative, this program aims to educate and engage UC San Diego students through peer education and programming to raise awareness and incorporate culture, art, politics and social justice into all disciplines within sustainability education. Volunteer ambassadors will work under the direction of the Carbon Neutrality Initiative Student Engagement Fellow and the Sustainability Office.
Ambassadors will be trained to educate other students on sustainability issues through workshops, projects and social media engagement activities at the Sustainability Resource Center. Each Sustainability Ambassador will focus on one subject area to inform and engage the student population. Six ambassador positions are available:
Climate Change
Food Systems
Public/Environmental Health
Waste/Recycling
Renewable Energy/Green Technology
Facilities Management
Benefits of being a Sustainability Ambassador include:
Enhanced communication, decision-making and leadership skills
Improved presentation, teaching and facilitation skills
Gaining extensive knowledge of an interdisciplinary model of sustainability education
Gaining valuable experience for future employment and academic endeavors
Being part of a skilled, fun, diverse team of students committed to educating their peers about sustainability
Interacting directly with staff and/or faculty
Positions available: All 12 positions currently filled
Location: Sustainability Resource Center.
Duration: Three academic quarters (Fall 2016, Winter and Spring 2017)
Hours: 5-6 hours per week
Duties include
Attend weekly team meetings with the Carbon Neutrality Initiative Fellow.
Attend two training sessions a week from Week 2 through Week 9.
Conduct specific research project on campus and/or help manage the Discovering Sustainability Award Program that will recognize student participation in sustainability related workshops and events.
Assist as needed with implementing sustainability related events (Earth Month, Triton Day, Founder's Day, events with student organizations, departments, Staff Association, etc.).
Conduct weekly sustainability workshops in the Sustainability Resource Center.
Create projects related to the ambassador's discipline.
Coordinate do-it-yourself projects that help to reduce consumerism in our daily lives.
Create an interactive video to promote sustainability the ambassador's discipline.
Greet Sustainability Resource Center visitors.
Act as a liaison with campus committees and stakeholders.
Perform administrative tasks, answer telephone and maintain common areas.
Qualifications
Experience with Microsoft Office (Word, Excel, PowerPoint)
Proven ability to independently manage projects
Experience with recruiting, training and coordinating volunteers
Demonstrated understanding of sustainability concepts
Strong written, oral and interpersonal communication skills
Ability to work collaboratively as a team player
Committed to UC San Diego values of community, diversity and sustainability
Questions: If you have questions, contact the Carbon Neutrality Initiative Student Engagement Fellow, Lesly Figueroa or sustain@ucsd.edu. 
Apply