Sustainability Resource Center
The UC San Diego Sustainability Resource Center (SRC) opened in 2009 and serves as a hub for materials and initiatives related to local, national, and global sustainability. The Sustainability Resource Center is a collaborative effort between UC San Diego Sustainability and the Student Sustainability Collective (SSC).
Goals
Balancing environmental, social and economic stewardship as they relate to sustainability
Maximizing campus and local outreach and participation
Reducing campus impact on the environment
Establishing a model for contributing to local, national and global sustainability
Providing resources to develop innovative sustainable solutions
Location and Hours
Location: Price Center West Plaza, 1st Floor, PC Theater Lobby (map)
Hours: Monday through Thursday, 11 a.m. – 4 p.m. (excluding university holidays and breaks)
---
Get Involved
Join a Group
Apply for Student Opportunities
Volunteer Positions
Sustainability Ambassadors
The Sustainability Ambassadors Program is a registered campus student organization sponsored by the UC San Diego Sustainability Office and the UC Office of the President's Carbon Neutrality Initiative. This program aims to educate and engage students through peer education and programming to raise awareness of UC San Diego's efforts to reach carbon neutrality and encourage students to implement sustainable living methods. Volunteer ambassadors will work under the direction of the Carbon Neutrality Initiative Student Engagement Fellow and the Sustainability Program Office.
Ambassadors will be trained to educate other students on sustainability issues through workshops, projects and social media engagement activities at the Sustainability Resource Center. Each Sustainability Ambassador will become knowledgeable about the Carbon Neutrality Initiative (CNI) and focus on informing and engaging students on personal, campus-wide and global changes that can be made to reach CNI goals. Four ambassador positions are available for the 2021–2022 academic year.
Benefits of being a Sustainability Ambassador include:
Enhancing communication, decision-making and leadership skills
Improved presentation, teaching and facilitation skills
Gaining extensive knowledge of an interdisciplinary model of sustainability education
Being part of a skilled, fun, diverse student team committed to educating their peers about sustainability
Creating, maintaining and enhancing relations with campus sustainability staff and faculty
Gaining valuable experience for future employment and academic endeavors
CCR Approved Volunteer Opportunity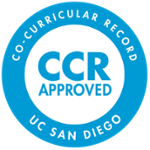 CCR, or Co-Curricular Record, recognizes the work students do outside the classroom by recording the experience on an official document that accompanies the UC San Diego transcript. Students who volunteer for 30+ hours during the 2022–2023 academic year with UC San Diego Sustainability are eligible for this program. Learn more about CCR.
Position Description
Application deadline: Closed
Location: Online and in person at the Sustainability Resource Center
Number of positions: 4
Duration: Three academic quarters (Fall 2022 Winter and Spring 2023)
Hours: 5–6 hours per week
Duties include:
Attending:

Two training sessions a week during Fall Quarter from Week 4 through Week 9
Weekly team meetings with the Carbon Neutrality Initiative Fellow

Assisting the Carbon Neutrality Initiative Fellow in planning and hosting Green Talks, an annual climate change symposium during Spring Quarter 2023
Assisting as needed with implementing sustainability related events (UC San Diego's Earth Month, Green Talks, department and student organization's events, etc.)
Creating small- and large-scale presentations for various venues and campus groups
Coordinating do-it-yourself projects that help to reduce consumerism in our daily lives
Liaising with campus committees and stakeholders
Qualifications
Demonstrated understanding of sustainability concepts
Strong written, oral and interpersonal communication skills
Proven ability to independently manage projects
Ability to work collaboratively
Familiarity with Google Suite (Drive, Docs, Sheets, Slides)
Experience with recruiting, training and coordinating volunteers
Commitment to UC San Diego values of community, diversity and sustainability
Questions? Contact UC San Diego Sustainability.
Fellowships
Bonnie Reiss Carbon Neutrality Initiative Student Fellowship
The UC President's Carbon Neutrality Initiative Student Fellowship Program funds student-generated projects that support the UC system's goal to produce net-zero greenhouse gas emissions by 2025. Students selected to serve as campus CNI Student Engagement Fellows will work with campus Sustainability staff to communicate about campus and UC‐wide sustainability goals and programs, to assess existing programs and efforts, and to engage undergraduate and graduate students in those efforts. In addition, engagement and communication efforts should enable and empower students to provide feedback about campus and UC‐wide sustainability programs.
Application period is closed.
Global Food Initiative Student Fellowship
The UC President's Global Food Initiative Student Fellowship Program funds student-generated research, related projects or internships that focus on food issues. The program is open to undergraduate and graduate students and is administered by campus Sustainability staff to ensure that student efforts align with local needs.
Application period is closed.
---
Questions?
Contact us, sustain@ucsd.edu or (858) 534-4515.