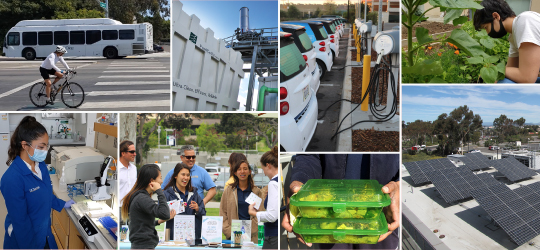 UC San Diego 2021 Sustainability Report
UC San Diego has a long-standing commitment to climate change research, education, innovative sustainability practices and real-world climate action with civic and community partners. I am proud of the extraordinary efforts of UC San Diego faculty, staff and students highlighted in this report.
–Chancellor Pradeep K. Khosla
Foreword
UC San Diego's inaugural annual sustainability report provides an update on the progress that we have made towards our collective sustainability goals in ten key areas:
Air and Climate
Clean Energy
Engagement
Environmentally Friendly Purchasing
Food and Dining
Green Buildings
Sustainable Landscapes
Transportation and Fleet Services
Water Conservation
Zero Waste
Historically, UC San Diego has set ambitious goals that motivated action and built upon the leadership of exceptional founding scholars, like Roger Revelle and Charles David Keeling. While this report focuses on innovative and leading sustainable practices for campus operations, it also recognizes solutions that help to address significant global challenges as diverse as climate change, food adequacy, disease prevention and ocean resource conservation.
Throughout a challenging year, the university remained focused on building a more sustainable future. Since 2009, we have completed projects that have reduced emissions per square foot by over 50% and have saved the campus an estimated $14 million in annual energy costs. The campus also added new electric vehicle charging stations powered by renewable energy, bringing the total available to 300 as of June 30, 2021. By replacing single-use containers with durable, reusable OZZI containers, Housing*Dining*Hospitality saved 252,465 single-use containers in the first eight months. Our logistics team continues to replace carbon-emitting vehicles with electric vehicles and is on track to support a fully electric distribution fleet by next year.
Our campus serves as a living laboratory where the university collaborates with leading scientists on real-world solutions. Each year, this report will serve as an important milestone recognizing the extraordinary efforts of UC San Diego faculty, staff and students as they work to challenge expectations in order to make our world better locally and globally.
Gary C. Matthews
Vice Chancellor
Resource Management & Planning
The UC Sustainable Practices Policy guides sustainability efforts across the ten campuses and university facilities in ten sustainable focus areas.
In 2013, the University of California implemented the Carbon Neutrality Initiative to emit net zero greenhouse gases from its buildings and vehicle fleet by 2025. The university works to cut greenhouse gas emissions by reducing energy use and switching to clean energy supplies. The campus microgrid can generate approximately 85% of the electricity used annually from cogeneration plants, renewable energy fuel cells, solar arrays and other sources. In 2020, campus energy consumption decreased by 4% and total campus greenhouse gas emissions decreased by more than 25%.
All new building and major renovation projects meet a minimum LEED-Silver rating and prerequisites for the Laboratories for the 21st Century Environmental Performance Criteria. North Torrey Pines Living & Learning Neighborhood received numerous awards and is expected to become UC San Diego's fifth LEED Platinum project. The campus is upgrading high-energy-use buildings with energy-efficient ventilation systems, switching to LED lighting and enhancing building-performance monitoring systems.
UC San Diego aims to reduce growth-adjusted potable water consumption 36% by 2025 when compared to a three-year average baseline of fiscal years 2005 through 2008. By installing programmable utility meters that automatically detect leaks, technicians can respond quickly to save water. The campus reduces potable water used for irrigation by using recycled water, installing efficient irrigation systems, using drought-tolerant plants and removing turf. UC San Diego's potable water use decreased by 14% from FY 2020.
UC San Diego works to reduce single-occupant vehicle commuting by promoting transportation alternatives and has received SANDAG's iCommute Diamond Award for the past six years. The institution has one of the largest university EV charging networks with over 300 ports on campus.
The university strives to divert at least 90% of materials from landfill or incineration by reducing and recycling. Waste diversion improved to 51% in Fiscal Year 2021 and UC San Diego received a City of San Diego 2020 Recycler of the Year Award. Housing*Dining*Hospitality introduced the Triton2Go reusable container program that replaced more than 250,000 disposable containers since Fall Quarter 2020.
The Triton Food Pantry recovered food from local grocery stores and received produce donated from campus community gardens. During the 2020-2021 academic year, nearly 1,700 students visited the Triton Food Pantry more than 8,750 times.
UC San Diego earned a Gold Sustainability Tracking Assessment Rating System (STARS) rating, ranked #89 in the Sierra Cub Cool Schools, and 70th in the world by the 2020 UI Green Metric World University Rankings.
The university shares progress towards the goals outlined in the UC Sustainable Practices Policy in the UC Annual Report on Sustainable Practices, which highlights the University of California's comprehensive sustainability program achievements over the past year.
---
Mission
To provide leadership, guidance and support to our various campus partner and stakeholders in identifying, developing and implementing actions that will ensure a more sustainable UC San Diego going forward.
Vision
To create a sustainable campus for future generations.
Campus Units
Achieving our sustainability goals takes the collective effort of everyone at UC San Diego. Staff, students and faculty across many areas are working collaboratively to develop solutions and elevate initiatives for a more sustainable campus. Together, these units comprise UC San Diego Sustainability.
---
Sustainability Action Groups
Fostering greater collaboration among UC San Diego's various campus partners and stakeholders to achieve our collective sustainability goals and ultimately create a more sustainable campus led to the formation of action groups associated with different areas of campus sustainability. The charge for these action groups is to review areas of improvement and identify sustainability projects to implement. These action groups are comprised of staff, faculty and students from multiple departments and groups across campus.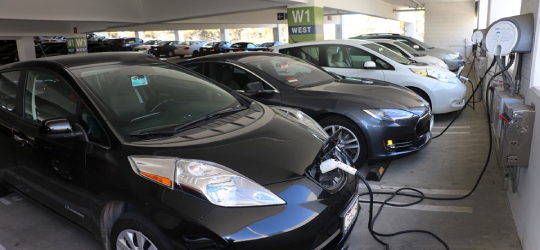 EV charging stations in Athena Parking Structure
Reduction of Scope 1 and 2 greenhouse gas emissions, carbon offsets, carbon storage from onsite composting; reduction of greenhouse gas emissions from air travel paid through the university; and commuting to/from campus
Action Group Leads:
John Dilliott, Utilities & Sustainability Director
Michelle Perez, Energy & Sustainability Manager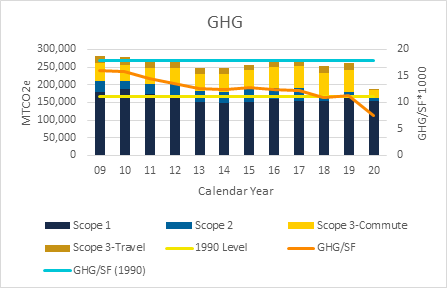 2020–2021 Highlights
In 2020, UC San Diego decreased its total greenhouse gas emissions by over 25%, over 70,000 MTCO2e, from 2019. This reduction equates to the amount of greenhouse gas emissions from approximately 16,000 passenger vehicles driven for one year. Factors contributing to this reduction include remote work and travel restrictions due to COVID-19 as well as 100% clean power provided by UCOP's Clean Power Program.

UC San Diego joined an international coalition of leading climate research universities to issue its

first declaration

before the G20 Summit on November 21 and 22, 2020.

In January, the San Diego County Board of Supervisors unanimously voted to direct county staff to work in partnership with the UC San Diego School of Global Policy & Strategy on a

regional zero-carbon sustainability plan

.

In February, San Diego Gas & Electric (SDG&E) and Scripps Institution of Oceanography at UC San Diego signed a

memorandum of understanding

to conduct research on the effects of climate hazards to the San Diego region.

UC San Diego Climate Champions hosted their virtual

Climate Education Summit 2021

in May, which focused on climate justice and climate action, climate communication strategies and the integration of Indigenous knowledge.

Green Steel Printing, a venture founded by Jacobs School of Engineering materials science Ph.D. students Olivia Dippo and Andy Zhao, earned the

Triton Innovation Challenge

Grand Prize for developing a 3D printing technique that can manufacture steel cheaper than existing methods, with no carbon emissions and minimal wasted scrap metal.

A team of experts representing the American Planning Association and Scripps Institution of Oceanography at UC San Diego recommended increased effort, coordination and engagement by San Diego agencies and researchers to build climate resilience with attention to disadvantage communities that are particularly susceptible to climate change impacts in a

regional response to climate change report

issued in June.
2020
–

2021 Awards
UC San Diego received

$39 million from the National Science Foundation

to build a world-class research platform with the objective to decarbonize the electric grid, protect it from cyber security attacks and make it more resilient. UC San Diego will build a best-in-class testing ground with the DERConnect project, which will consist of more than 2,500 devices on the campus microgrid, including the 2.8 MW fuel cell, 3 MW of Photovoltaics, a dozen classrooms and office buildings, 300 electric vehicle charging stations and a battery electric energy storage testing facility.

In June, Dr. Veerabhadran Ramanathan, renowned climate and atmospheric scientist at Scripps Institution of Oceanography at UC San Diego, received the

Blue Planet Prize

, which is awarded to outstanding individuals or organizations whose work has and continues to contribute significantly to the improving the global environment.
Goals and Key Strategies for Air and Climate
Reduce greenhouse gases to 1990 levels

Achieve carbon neutrality for scopes 1 and 2 sources by 2025

Achieve carbon neutrality for scope 3 sources by 2050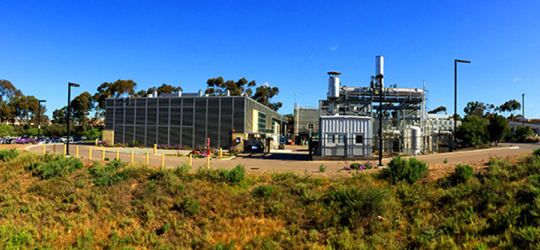 East campus utilities
Energy efficiency actions in buildings and infrastructure systems; installation of onsite renewable electricity supplies and storage systems
Action Group Leads:
John Dilliott, Utilities & Sustainability Director
Michelle Perez, Energy & Sustainability Manager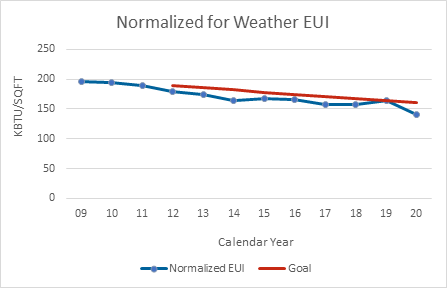 2020 Highlights (UCOP Energy reports energy data by calendar year)
Campus energy consumption decreased by 4% in 2020. UC San Diego receives 100% clean electricity from the UC Clean Power Program.
UC San Diego decreased its energy use intensity (EUI) by 16% from 2019. Additionally, over the past four years, UC San Diego has saved an average of 3.6% per year (energy use per square foot, weather normalized), surpassing UCOP's EUI goals. This EUI decrease relates mostly to the increase in housing square footage coupled with reduced occupancy due to COVID.
The campus microgrid responded to Governor Newsom's state of emergency proclamation during the Labor Day extreme heat wave by voluntarily activating aggressive demand response strategies with electric chillers, building thermostats and backup generators. The efforts averaged 16 MW of power and exported 30 MWH during nine of the SDG&E grid's most vulnerable hours to help avoid regional public safety power shutoffs.
The California Energy Commission transferred ownership of 10 used Nissan Leaf vehicles to Transportation Services for research purposes. In collaboration with UC San Diego's Center for Global Justice and the School of Global Policy & Strategy, Resource Management & Planning will make vehicles available for short-term rides to the approximately 2,000 UC San Diego employees who reside in underserved communities without access to home charging. RMP has ensured affordable and equitable access to ample workplace charging with the installation of more than 298 Level II and four DC Fast Chargers throughout campus, coupled with consumer education and full utilization of available income-based ownership incentives that will eliminate barriers facing underserved populations.
Campus Utilities used the chilled water loop to provide water-based cooling to new servers in San Diego Supercomputer Center, which is more efficient than air-cooled units.
The campus completed multiple energy efficiency projects, including Muir Biology Variable Air Volume (VAV) retrofit, Urey Hall basement VAV retrofit and Natural Sciences Building Monitoring Based Commissioning. The Natural Sciences Building project included installation of process chilled water loop to

Nuclear Magnetic Resonance equipment 

that improves building chilled water use efficiency.
UC San Diego scientists discovered a new anode material that enables lithium-ion batteries to be recharged safely within minutes for thousands of cycles; this  is promising for commercial applications where both high energy density and high power are desired.
UC San Diego launched the Institute for Materials Discovery and Design as a collaboration between the Jacobs School of Engineering and Division of Physical Sciences. Its goal is to leverage researchers' cross-disciplinary expertise to discover and design materials that can have applications in developing zero- and low-carbon energy and transportation systems, cost-effective healthcare solutions, advances in sustainability and next-generation information technologies. 
A team of researchers at the Jacobs School of Engineering designed and manufactured a new sodium-ion conductor for solid-state sodium-ion batteries that is stable when incorporated into higher-voltage oxide cathodes. This new solid electrolyte could dramatically improve the efficiency and lifespan of this class of batteries.
2020–2021 Awards
A UC San Diego Jacobs School of Engineering team of electrical engineers and computer scientists received $7.5 million from the U.S. Advanced Research Projects Agency –

 Energy and the California Energy Commission to advance nation-wide efforts to

reduce the energy used by data centers

in the next decade through deployment of new photonic—light based—network topologies. The U.S. government estimates that data centers currently consume more than 2.5% of U.S. electricity and that this figure is projected to double in approximately eight years due to the expected growth in data traffic.
Goals and Key Strategies for Clean Energy
Reduce each location's energy use intensity by an average of at least 2% annually 
By 2025, each campus and health location will:

Obtain 100% clean electricity
Ensure that at least 40% of natural gas combusted onsite will be biogas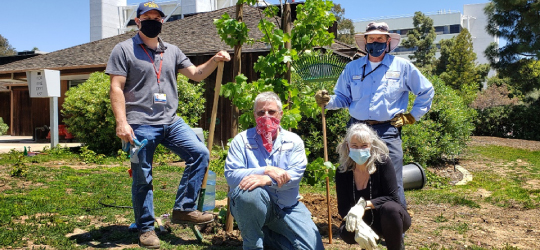 Arbor Day tree planting
Inclusion of sustainability materials in new student or employee orientations; student and staff educator programs; community service; student and staff sustainability organizations; student-run enterprises; symposia; sustainable art installations; internships
Action Group Lead: Jen Bowser, Sustainability Engagement Manager
2020–2021 Highlights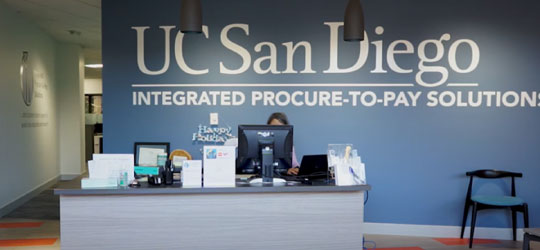 Reducing unnecessary purchasing; Surplus Sales; procuring multi-use products; increasing economically and socially responsible spending; supporting small businesses; vendor take-back programs
Action Group Leads:
Anthony Singleton, Chief Small Business Officer
Lynda Ta, Social Responsibility & eProcurement Specialist
2020–
2021 Highlights
At the time of this report, Fiscal Year 2020–2021 sustainable procurement data for UC San Diego was not yet available.
Goals and Key Strategies for Sustainable Purchasing
The University of California focuses on the environmental, economic and social impacts of its purchasing decisions. The Sustainable Procurement Guidelines outline the minimum sustainability requirements for products and services purchased in order to achieve the following:
100% compliance with required level green spend criteria within three fiscal years of the addition of those products and/or categories to the Sustainable Procurement Guidelines
25% green spend as a total percentage of spend per product category; target to be reached within three fiscal years after a category is added to the guidelines
25% economically and socially responsible spend as a total percentage of addressable spend; target to be reached within five fiscal years of adoption of this section in the guidelines
UC San Diego is focused on:
Establishing and managing contracts with clients that meet sustainable procurement guidelines
Encouraging campus departments to purchase reutilized items from Surplus Sales.
Consulting with departments that request a new printer through the Printer Refresh Program to determine the most sustainable option that will meet their needs while reducing the number of printers in the department and carbon footprint through energy usage and efficiency in toner and paper use
Adding tags in Oracle Procurement to identify green-certified, sustainable, environmentally friendly products
Establish9ing a partnership between UC San Diego and Thermo Fisher Scientific that aims to achieve zero waste by increasing the use of environmentally friendly alternatives to commonly used materials and solutions
Expanding the use of Thermo Fisher's 100% paper cooler to eliminate hard to recycle EPS plastic foam packaging for temperature-sensitive campus deliveries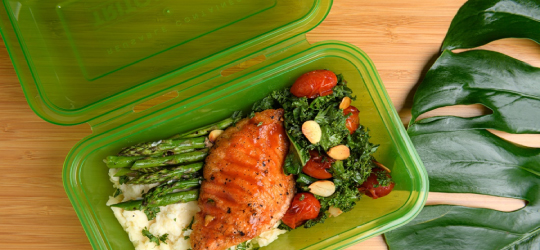 Triton2Go reusable container
Sustainable food products; educational and training materials that help support better food choices; plant-forward menus
Action Group Leads:
Cindy Penning, Lease Administration – Retail, University Centers
Colin Moynihan, Sustainability Manager, Housing*Dining*Hospitality
2020–
2021 Highlights
Approximately 18% of UC San Diego's total food and beverage spend was considered sustainable—

a decrease from 21% in FY 2020. COVID-19 negatively affected the on-campus student population and dining operations and vendor data collection was incomplete.

During the 2020

-

2021 academic year, 1,652 different students visited the

Triton Food Pantry

8,767 times, representing 10% of the total student population living on campus, 20% of which was graduate students. Total visits include:

654 deliveries

105 Mobile Pantry distributions

5,096 visits to One Miramar Street Pantry

2,912 visits to the original pantry

The University of California's

Global Food Initiative

addresses one of the critical issues of our time: How to sustainably and nutritiously feed a world population expected to reach eight billion by 2025. GFI fellows hosted the monthly webinar series,

The Science of Gardening

, in collaboration with Roger's Community Garden. 2020-2021 GFI Fellows:
Goals and Key Strategies for Food and Dining
Procure 20% sustainable food products for foodservice operations

Adopt principles of more nutritious and sustainable menus

Increase sustainable seafood, whole grain and plant forward options

Reduce sodium and beef options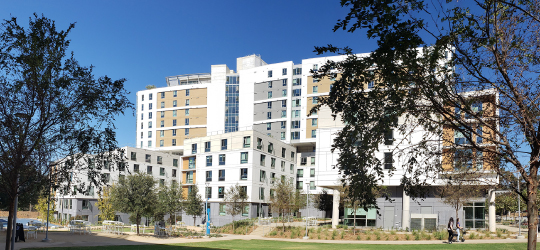 North Torrey Pines Living and Living Neighborhood
Energy-efficient design features; energy performance; building commissioning efforts; LEED certifications; new construction and renovations
Action Group Leads:
Jason Kayne, Director of Facilities Management
Walter Kanzler, Senior Director of Design
2020
–

2021 Highlights
UC San Diego constructed sustainable buildings, with nearly 70% of them being LEED Gold certified or higher.
Resource Management & Planning led a cross-departmental team to develop Sustainable Building Guidelines to provide consistent guidance on how design and construction teams should apply sustainable building principles and streamline the integration of programmatic campus elements. Examples include the UC San Diego LEED Mastersite, District Energy System and Renewable Energy infrastructure.
North Torrey Pines Living and Learning Neighborhood (NTPLLN) residential areas opened Fall Quarter 2020 and the neighborhood is expected to become the fifth LEED Platinum project on campus consisting of 6 individually LEED certified buildings and 1 Parksmart certification for the Parking Structure.
In its third year, the USP 169 Living Lab for-credit course was initiated from a volunteer pilot course hosted by the NTPLLN Design/Build team in collaboration with UC San Diego. We collaborated with USP faculty to identify an adjunct alumnus with extensive green building experience to teach the course ongoing. We are using the campus as a Living Lab and sharing multiple project team experience with the students, including on campus tours, and specific hands-on experience with LEED credits, leading to the opportunity for the students to gain their LEED GA credential. Over the next several years our capital program will be a perfect venue for all phases of Planning, Design and Construction of LEED certified Green Buildings. Connecting project teams with this course is intended for ongoing infusion of new work in progress.
In 2020-2021 UC San Diego received over $290,000 in incentives that amounted to over $70,000 in direct savings and will reduce CO2 emissions by 186 metric tons.
2020
–

2021 Awards
Goals and Key Strategies for New Buildings and Renovations
Design and construct all new buildings and major renovations to a minimum LEED BD+C -Silver rating as well as meet the prerequisites of the Laboratories for the 21st Century Environmental Performance Criteria
Design and construct all renovation projects with a cost of $5 million or greater (except acute care facilities) to a minimum LEED-IDC Certified rating
Outperform the energy requirements of a California Building Code by at least 20 percent on all new construction and major renovation projects (except acute care facilities) or meet UC's Whole Building Energy Targets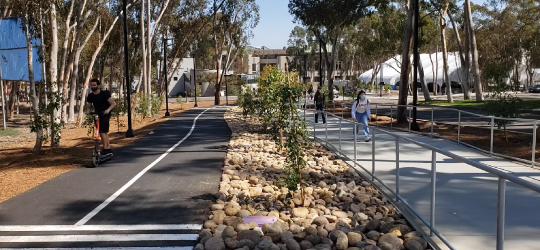 Ridge Walk enhanced pedestrian and multi-modal experience
Organically managed with only ecologically preferable materials; sustainable landscaping; urban forest maintenance
Action Group Leads:
Lauren Lievers, Principal Environmental Planner
Bryan Hooks, Assistant Director of Landscape Services
2020
–

2021 Highlights
UC San Diego completes habitat management, maintenance and monitoring services as part of an ongoing effort to preserve and enhance the native species and sensitive habitat areas found within the Ecological Reserve on campus. UC San Diego's Ecological Reserve Habitat Management Plan guides this effort and progress made was documented in the Ecological Reserve 2020 Annual Report, which includes a summary of the maintenance activities conducted, representative photographs of select areas within the reserve, maps of invasive species areas and lists of wildlife and plant species identified in the reserve. The plan and associated reports are available on the Campus Planning website.
Student residents received electronic copies of an informational flyer to help inform them of the benefits and sensitivities of the Ecological Reserve.
During the spring 2021 nesting season, the university completed campus-wide coastal California gnatcatcher surveys, which the Habitat Management Plan requires completing every five years. Coastal California gnatcatchers were observed foraging and nesting primarily within the campus Ecological Reserve and were found to be present at similar levels as previously identified.
In spring 2021, a rare plants survey was also conducted in the portion of the Ecological Reserve located within Scripps Institution of Oceanography campus and the University House/Beach Properties area. Within these areas, eight rare plant species meeting California Rare Plant Rank of 1B.1/B.2 (serious or moderate threat in California and elsewhere); 2B.1/B.2 (moderate threat in California but more common elsewhere); or 4.1/4.1 (limited distribution within California with a serious or moderate threat) were identified during the 2021 survey. These included wart-stemmed ceanothus, San Diego barrel cactus, sea dahlia, California boxthorn, Torrey pine, Nuttall's scrub oak, ashey spikemoss and woolly seablite. The remaining portion of the Ecological Reserve (areas located on the west and east campuses) will be surveyed for rare plants in the 2022 spring season.
The Erosion Control and Parking Project (south of VA Hospital) that began construction mid-2021 could not avoid impacts to Diegan coastal sage scrub, a sensitive upland vegetation type, located at the project site. Approximately 1.3 acres of this vegetation was removed for construction; therefore, pursuant to the 2018 LRDP EIR mitigation program requiring a 2:1 mitigation ratio, Campus Planning identified 2.6 acre within the Ecological Reserve where this habitat type can be created, enhanced and managed as preserved habitat in perpetuity.
The UC San Diego Thousand Tree Initiative is more than halfway completed with 530 trees planted within a 20-month time frame. The planted Torrey Pines are grown from seeds on campus.
The Intertribal Resource Center (IRC) is working with Kumeyaay community members and the campus community to create an official statement for UC San Diego. In the interim, the IRC has developed this statement as a temporary draft: The UC San Diego community holds great respect for the land and the original people of the area where our campus is located. The university is built on the un-ceded territory of the Kumeyaay Nation. Today, the Kumeyaay people continue to maintain their political sovereignty and cultural traditions as vital members of the San Diego community. We acknowledge their tremendous contributions to our region and thank them for their stewardship.
2020
–

2021 Awards

In December 2020, UC San Diego received a 2020 Outstanding Environmental Analysis Document Award from the California Association of Environmental Professionals for the UC San Diego 2018 Long Range Development Plan - La Jolla Campus EIR (Prepared by Baranek Consulting Group and AECOM). The project involved a comprehensive programmatic environmental analysis of an unprecedented 20-year expansion of the UC San Diego campus. The LRDP and its EIR were prepared to be responsive to the academic and facility needs of the campus, the expectations of the campus and local communities, and the UC system-wide commitment to carbon neutrality and zero waste initiatives. Innovative impact analysis techniques were developed in order to create a defensible and relevant EIR in light of major revisions to the CEQA Guidelines driven, in part, by the implementation of new transportation analysis metrics under SB 743.
Goals and Key Strategies for Sustainable Landscapes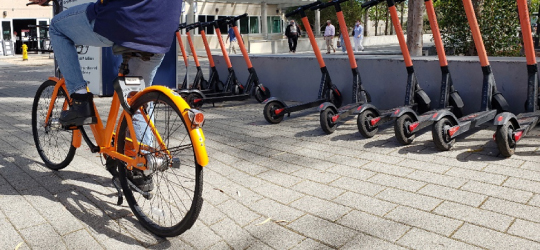 Shared bikes and scooters
Implementing strategies to encourage use of more sustainable transportation modes and reduce the impact of student and employee commuting; promoting sustainable commuting options, such as walking, cycling, vanpooling and carpooling, taking public transportation or campus shuttles, riding motorcycles or scooters, using a zero-emissions vehicle, leveraging distance education
Acquisition of zero-emission or hybrid fleet vehicles; investment in alternative fuel infrastructure
Transportation & Fleet Services Action Group Leads:
Curt Lutz, Assistant Director, Transportation Demand Management and Planning
Greg Nishihira, Assistant Director, Fleet Services
Josh Kavanaugh, Executive Director, Parking & Transportation
Kevin Norris, Associate Engineer
Robbie Jacob, Associate Director, Logistics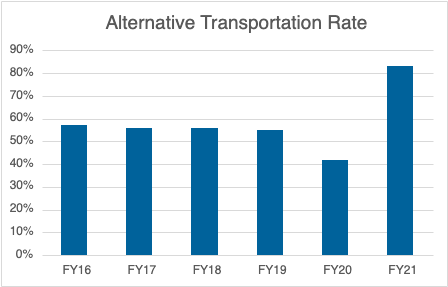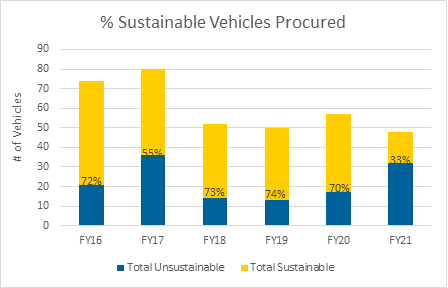 2020
–

2021 Highlights
UC San Diego's alternative transportation rate nearly doubled from 42% in FY 2020 to 83%. Across students, faculty and staff, commuting by methods other than single-occupancy vehicles increased. Remote work was the most notable alternative mode that counted towards "0" vehicle-miles-traveled. This increase occurred because approximately 80% of staff were working remotely due to COVID-19.
Fleet Services procured 48 new light-duty vehicles, 33% of which are considered sustainable. This is a decrease from FY 2020, with 70% of its 57 new light-duty vehicles were considered sustainable. This reduction relates to UC San Diego's operational needs, which required acquisition of many pickups and vans. No feasible zero-emission vehicles were available in these vehicle classes.
UC San Diego continues to leverage public funding to expand the campus electric vehicle charging infrastructure. At the end of FY 2021, our campus has 300 ports that serve commuters and the public. Over the past four years, UC San Diego has become San Diego County's largest multipurpose hub of EV charging plazas by delivering 2.5 GWH to more than 5,500 unique drivers.
Fleet Services hosted a demonstration of the Lordstown electric truck.
Construction of the Blue Line Trolley extension of the light-rail continued with a grand opening in November 2021.
2020
–

2021 Awards
Goals and Key Strategies for Transportation and Fleet Services
By 2025, each location shall strive to reduce its percentage of employees and students commuting by single-occupancy vehicles (SOV) by 10% relative to its 2015 SOV commute rates. By 2050, each location strives to have no more than 40% of its employees and no more than 30% of all employees and students commuting to the location by SOV.
By 2025, each location shall strive to have at least 4.5% of commuter vehicles be zero-emission vehicles (ZEV). By 2050, each location shall strive to have at least 30% of commuter vehicles be ZEV.
By 2025, zero-emission vehicles or hybrid vehicles shall account for at least 50% of all new light-duty vehicles acquisitions.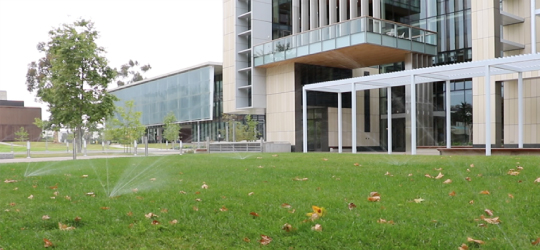 Recycled water irrigation
Reduced potable water use; increased recycled water use; implementing efficient irrigation systems; drought-tolerant planting selections; turf removal; rainwater management
Action Group Lead: Michelle Perez, Energy & Sustainability Manager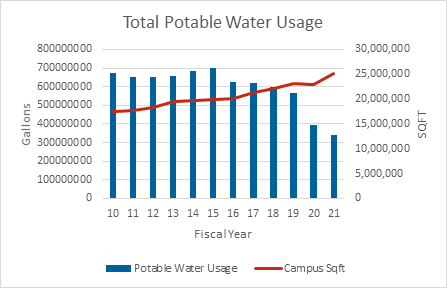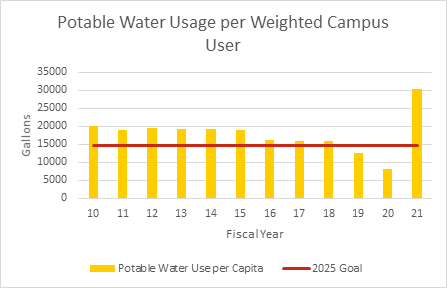 2020–
2021 Highlights
UC San Diego's potable water use decreased by 14% from FY 2020. This equates to a reduction of 54,955,560 gallons, approximately 83 Olympic-sized swimming pools. This decrease in overall water consumption resulted from increased remote work and reduced residential occupancy. However, there was an increase in per capita water usage due to a reduction in weighted campus users.
During the past two years, the Utilities & Sustainability team has installed and programmed more than 250 water, electric, gas, chilled water and high-temperature water meters to transition 1,000 building-level Automatic Meter Reading meters. AMR metering allows near real-time data acquisition and analysis for the team and for campus partners. Staff in Facilities Management Irrigation and Building Operations, Housing*Dining*Hospitality Operations, Recreation Operations and University Center Operations use the information provided to them to confirm irrigation and building performance and address issues in a timely, cost-effective manner. In 2021, the Utilities & Sustainability team identified more than 300 irregular water patterns that allowed proactive resolution of leaks and water waste resulting in more than three million gallons of water saved.
The San Diego Supercomputer Center and the Scripps Institution of Oceanography forded a stream between high-performance computing and water cycle science.
Utilities & Sustainability used fire hydrant testing water at the Central Utilities Plant for the cooling towers, saving approximately 300,000 gallons of water annually.
Reclaimed water use in cooling towers consisted of more than 75 million gallons in FY 2021.
In FY 2021, campus recovered more than 3.8 million gallons of water from condensate capture systems on Tata Hall, Bonner Hall and Health Sciences Biomedical Research Facility 2, using it for irrigation and indoor flushing.
2020–
2021 Awards
Goals and Key Strategies for Water Conservation
The University of California is committed to reducing growth-adjusted potable water consumption 36% by 2025, when compared to a three-year average baseline of FY 2005-06, FY 2006-07, and FY 2007-08.
The campus Water Action Plan calls for a minimum 4% increase in water conservation annually. New campus plans will accelerate this goal to achieve City of San Diego Water Use Restrictions.
In response to California and San Diego mandated water restrictions, Resource Management & Planning responded by stopping water leaks within 72 hours of notification, limiting watering hours and mandating use of recirculating pumps for decorative water fountains. We are also converting many turf areas to low/no-water-use landscape using drought-tolerant plants and groundcover.
With each new construction project, we install landscape recycled water piping. Expanded recycled water distribution throughout campus, including landscape areas around School of Medicine, Central Utilities Plant and Revelle Switch Station. Average annual recycled water irrigation has been approximately 40%.
UC San Diego Landscape Services is shifting to a more robust irrigation central control system called IQ4 and plants low-water-use, native and drought-tolerant plants in 75% of the irrigated campus landscape and ensures compliance with California's Model Water Efficiency Landscape Ordinance (MWELO).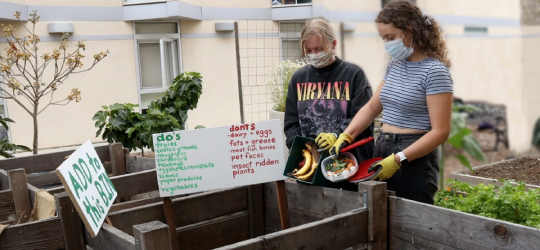 Organics recycling
Eliminating or replacing disposable single-use products with sustainable alternatives; increasing reusable options and reuse programs; organics recycling; diverting construction and demolition waste; hazardous waste management
Action Group Lead: Jeffrey Summerhays, Zero Waste Sustainability Manager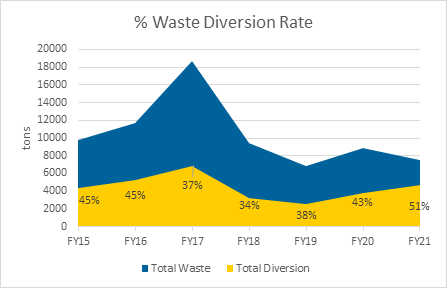 2020
–

2021 Highlights
The campus improved its waste diversion rate to 51%—an 8 %improvement from FY 2020.
Housing*Dining*Hospitality launched the Triton2Go Mobile Ordering App and Reusable Container Program, which replaced the use of 252,465 disposable containers in its first eight months.
Transportation Services expanded its pay-by-plate program for all pay stations via the ParkMobile app. Using license plates as a parking credential allows compliance staff to verify fee payments electronically and eliminates the need to produce, ship and distribute plastic and paper parking permits.
2020
–

2021 Awards

The campus received a City of San Diego Recycler of the Year Award.
Goals and Key Strategies for Zero Waste
Implementing 20 recommendations from the Zero Waste Road Map to move the university towards zero waste
Reducing municipal solid waste generation to:

25% per capita from 2015/2016 levels by 2025
50% per capita from 2015/2016 levels by 2030

Striving to divert at least 90% of materials from landfill or incineration through recycling, composting, anaerobic digestion, etc.
Phasing out the sale, procurement and distribution of Expanded Polystyrene (EPS):

Ensuring that no EPS food serveware is used on campus (e.g., cups, clam shells, plates, etc.)
Working with suppliers to phase out EPS packaging for non-temperature sensitive products (e.g., office supplies, electronics, furniture, etc.)
Reducing, reusing and finding EPS alternatives for lab and medical packaging

Estimating greenhouse gas emissions from waste management practices
Requiring capital project contractors to report recycled waste, landfill waste and hazmat waste with each pay application